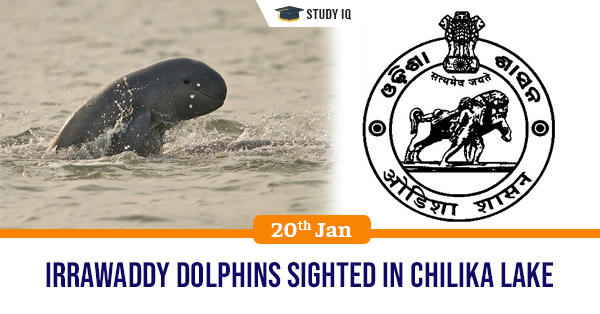 Irrawaddy dolphins sighted in Chilika lake
Date: 20 January 2020
Tags: Biodiversity
Issue
Odisha Forest Department officials, wildlife experts and researchers sighted 146 endangered Irrawaddy dolphins in Chilika Lake, which has the highest single lagoon population of the aquatic mammal in the world.
Background
The dolphin census was simultaneously taken up in Chilika and off Odisha coast. The Chilika Development Authority (CDA) is elated that the direct sighting of 146 dolphins meant that its population in the lake would stabilise well above 150.
Details
Officials expressed hopes that the population is likely to increase in the next couple of years as there are enough signs of dolphins migrating to other areas.

The total population of these aquatic mammals in the world is estimated to be less than 7,500. Of these, more than 6,000 Irrawaddy dolphins have been reported from Bangladesh, while the dolphin distribution in Chilika is considered to be the highest single lagoon population.
Irrawaddy dolphin
The Irrawaddy dolphin is a euryhaline species of oceanic dolphin found in discontinuous subpopulations near sea coasts and in estuaries and rivers in parts of the Bay of Bengal and Southeast Asia.

Its IUCN status is Vulnerable.
Chilika Lake
Chilika Lake is a brackish water lagoon, spread over the Puri, Khurda and Ganjam districts of Odisha state at the mouth of the Daya River, flowing into the Bay of Bengal.

It is the second largest brackish water lagoon in the world after The New Caledonian barrier reef. It has been listed as a tentative UNESCO World Heritage site.

In 1981, Chilika Lake was designated the first Indian wetland of international importance under the Ramsar Convention.