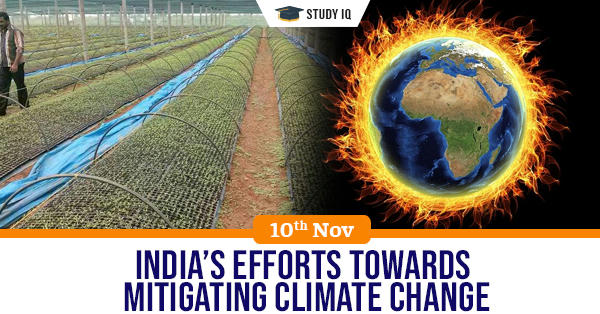 India's efforts towards mitigating climate change
Date: 10 November 2019
Tags: Climate Change
Issue
In 2015 several nations across the globe met in Paris, and 197 signatory countries have promised to own up and to limit the increase to no more than 1.5 degrees over the pre- industrial levels by 2030. India is one of them.
Background
Globe has warmed by about 2 degrees because of the carbon-rich fossil fuel-burning which started during the Industrial Revolution of the 1750s till today.
Challenges faced by India
India has promised to cut its emission intensity by 33-35% by the year 2030, as compared to 2015 levels.

First challenge: Most of India's emissions come from energy (largely coal-based) production (68%), industry (20%), agriculture, food and land use (10%).

It becomes vital that we use other means of energy, produced by, for instance, hydroelectric power, windmills, solar power, nuclear power and others. India hopes to produce 40% of its energy from such non-coal sources.

Secondly, agriculture, land use and water resources, these too contribute to climate change through minimum support price, subsidies, free 24-hour electric power supply, and water-intensive crops.

We need to restrict these and take to proven methods, and work on innovative ones. Some of these are drip irrigation (as Israel has done), aerobic cultivation (developing plant varieties whose roots penetrate deep into the soil), better and more nutritious grains.

The practice of Stubble burning must stop. Measures needs to be taken to find alternate methods to replace stubble burning.

The third is to bring down atmospheric CO2 levels through natural means. Forestation and planting of local varieties of trees must increase.

Local trees absorb water and send it down to earth. India has plans to create additional 'carbon sinks' through forestation and tree plantation, so as to bring down 2.5-3 billion tonnes of CO2.
Effects of climate change
Warmer climate, caused due to global warming can give rise to water-borne diseases such as cholera, diarrhoea, as well as malaria, dengue and chikungunya in geographical spread across hilly, cold as well as warm deserts and sea coasts.
Rising sea surface temperatures increase tropical cyclones and storm surges, leading to polluted water, insanitary conditions, population displacement, toxic exposures, hunger and malnutrition across the Bay of Bengal and Arabian Sea coast.