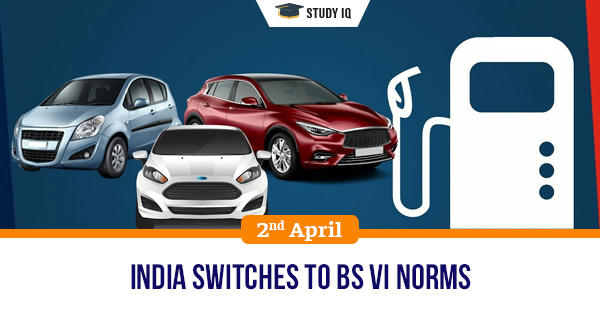 India switches to BS VI norms
Date: 02 April 2020
Tags: Climate Change
Issue
Despite the lockdown, India officially moved to a regime of tighter emission norms for motorised two- and four-wheelers.
Background
In 2016, the government had said India would directly progress from BS-IV norms to BS-VI, skipping the intermediary stage. Nearly ?60,000 crore was spent on the switch-over to BS-VI fuels.
Details
At fuel stations, only the low-sulphur fuel that complies with Bharat Stage-VI emission norms will be sold and so will cars at stores, whose engines meet the stricter norms.

As per BS-VI emission norms, petrol vehicles will have to effect a 25% reduction in their NOx, or nitrogen oxide emissions. Diesel engines will have to reduce their HC+NOx (hydro carbon + nitrogen oxides) by 43%, their NOx levels by 68% and particulate matter levels by 82%.

BS-VI petrol and diesel, which have sulphur content of just 10 parts per million, were set to be costlier by Rs 1/litre each, but state-run oil firms decided to maintain the current prices by adjusting the levy against cheaper crude.

The emission norms of all models of two-wheelers in India are ahead of Europe (2021) and Japan (2022), and India is the first country to adopt this level of emission norms.
Bharat Stage Emission norms
Bharat stage (BS) emission standards are laid down by the government to regulate the output of air pollutants from internal combustion engine and spark-ignition engine equipment, including motor vehicles.

The first emission norms were introduced in India in 1991 for petrol and in 1992 for diesel vehicles. Followed these, the catalytic converter became mandatory for petrol vehicles and unleaded petrol was introduced in the market.

The standards and the timeline for implementation are set by the Central Pollution Control Board under the Ministry of Environment, Forest and Climate Change.

Compared to the BS4, BS6 emission standards are stricter. Whereas makers use this variation to update their vehicles with new options and safety standards, the biggest modification comes in the permissible emission norms.