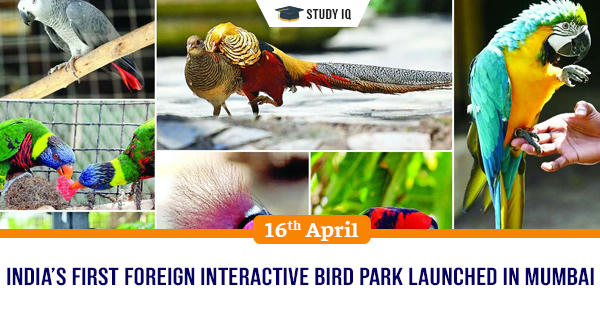 India's first foreign interactive bird park launched in Mumbai
Date: 16 April 2019
Tags: Climate Change
India's first rain forest-themed foreign interactive bird park was launched in Gorai, Mumbai, Maharashtra. It is home to over 500 exotic birds from more than 60 species. It was launched by EsselWorld Leisure Pvt. Ltd, the entertainment arm of $6-billion Essel Group.
Bird park
It is rain forest-themed park spread across 1.4 acres is home to over 500 exotic birds. It is meant for entertainment and also to spread awareness of different types of birds.
It shelters terrestrial, free-flying and aquatic birds. These birds have been brought from different corners of the world.
It is carefully designed to ensure appropriate living conditions for the birds. It is equipped with small ponds for aquatic birds, dense cover of trees for birds to incubate their eggs and water stream that offers drinking water to birds.
Some of key attractions of this park are
Flying birds:

Blue Gold Macaw, African Grey Parrot, Cockatiel, Toucan, Rainbow Lorikeet.

Terrestrial birds

: California Quail, Golden Pheasant and Ostrich.

Aquatic birds

: Black Swan, American Wood Duck, and Mandarin Duck.