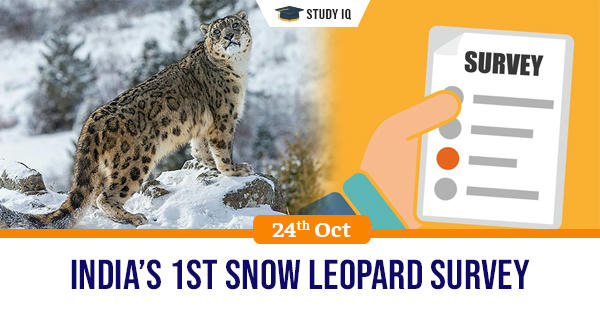 India's 1st Snow leopard survey
Date: 24 October 2019
Tags: Biodiversity
Issue
India will commission its first-ever survey to estimate the population and geographical range of the snow leopard.
Background
The snow leopard is found along the upper reaches of the Himalayan range and, in India, it is reported to have a presence in Kashmir, Ladakh, Himachal Pradesh, Uttarakhand, Sikkim and Arunachal Pradesh.
Details
The authorities are planning to use technology such as camera traps and scientific surveys to estimate the numbers. It will be coordinated by National Tiger Conservation Authority.

The snow leopard is found in 12 countries, namely India, Nepal, Bhutan, China, Mongolia, Russia, Pakistan, Afghanistan, Kyrgyzstan, Kazakhstan, Tajikistan and Uzbekistan.

The government is planning to undertake capacity building, livelihood, green economy, and green pathway even in the snow leopard areas of the Himalayan range and cross-country cooperation.
Snow leopards
The snow leopard, also known as the ounce, is a large cat native to the mountain ranges of Central and South Asia.

It is listed as Vulnerable on the IUCN Red List because the global population is estimated to number less than 10,000 mature individuals and is expected to decline about 10% by 2040.

It is threatened by poaching and habitat destruction following infrastructural developments.

Snow leopards protected areas include Hemis National Park, Kishtwar National Park and Dachigam National Park in Ladakh, Jammu and Kashmir, Pin Valley National Park, Great Himalayan National Park in Himachal Pradesh, Nanda Devi National Park, Gangotri National Park and Valley of Flowers National Park in Uttarakhand, Khangchendzonga National Park, Dibang Wildlife Sanctuary, Hirpora Wildlife Sanctuary.