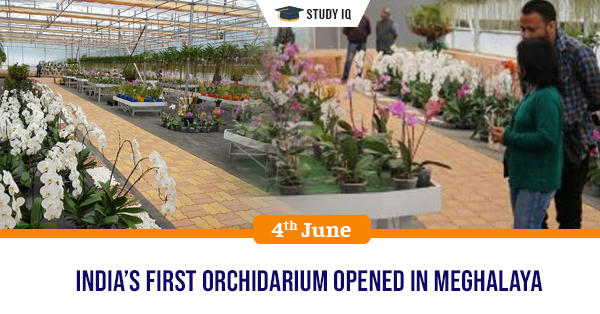 India's first Orchidarium opened in Meghalaya
Date: 04 June 2019
Tags: Biodiversity
India's first Orchidarium was opened for tourists at Upper Shillong in Meghalaya. It was made functional by Institute of Bio-resources and Sustainable Development (IBSD) within a record time of 3 months.
Features: It is unique state of the art orchidarium spread over area of 6000 square feet. It has climate controlled system. It displays several species of orchids in one place including from countries like Thailand, Singapore, Japan, England and many other countries
Background
North-east India houses about 900 species of orchids while Meghalaya houses 439 species. Many species are little known and are facing various threats both natural and anthropogenic. Unregulated wild collection of many species with ornamental values poses a big threat to their existence. IBSD is promoting orchid based bio-entrepreneurship to strengthen the bio-economy of the region as a major flagship programme. It seeks to encourage students and citizens of India to develop love and care for nature and also generate employment opportunities for many farmers and unemployed youth in the region.
Institute of Bio-resources and Sustainable Development (IBSD)
It is an autonomous institute of Department of Biotechnology under the Ministry of Science and Technology