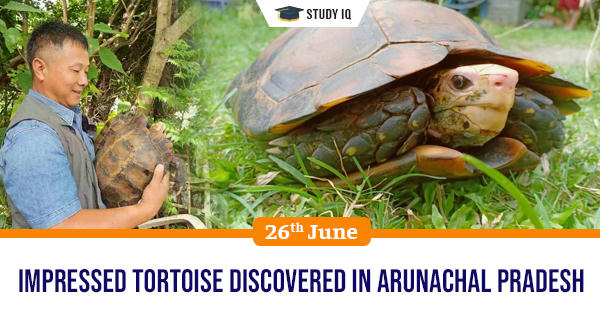 Impressed tortoise discovered in Arunachal Pradesh
Date: 26 June 2019
Tags: Biodiversity
Team of herpetologists from Arunachal Forest Department and two NGOs — Help Earth and Turtle Survival Alliance (TSA) have discovered Impressed Tortoise (Manouria impressa) in Yazali area of the Lower Subansiri district of Arunachal Pradesh. This is first record of tortoise in India, taking count to five and non-marine chelonian count to 29. Chelonian is order of reptile that includes turtles, terrapins and tortoises.
Note: India was earlier known to be home of only Asian Forest Tortoise (Manouria emys) until the discovery of the Impressed Tortoise. Asian Forest Tortoise is largest in mainland Asia and is found only in the northeast..
About Impressed Tortoise
Its scientific name is Manouria Impressa. It is mainly found in mountainous forest areas in Southeast Asia in Burma, southern China, Thailand, Laos, Vietnam, Cambodia and Malaysia. Now it has been found in India. It has golden brown shell and skin. Its male is smaller than the female which is 30 cm in length. Moreover, adults of this species are much smaller than their relatives Asian forest tortoise (Manouria emys).