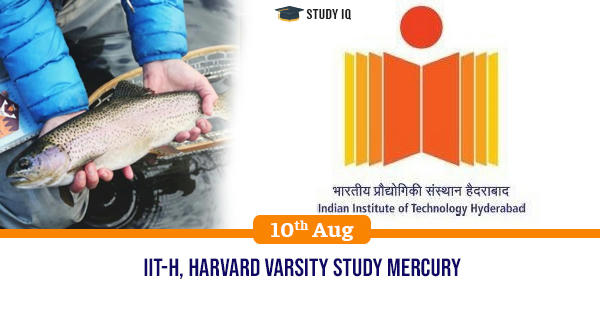 IIT-H, Harvard varsity study mercury
Date: 10 August 2019
Tags: Biodiversity
Context: A joint research by the Indian Institute of Technology, Hyderabad (IIT-H), Harvard University, and Fisheries and Oceans Canada, a Canadian government agency, has found that though there has been a decrease in the levels of mercury pollution, the amount of mercury found in fish have been different in different species some types of fish have less mercury than before, and some, alarmingly more.
Highlights:
There have been global efforts to reduce the amount of mercury entering the ocean to reduce the amount of mercury found in fish and other marine animals.
Working in this direction, the researchers focused on whether these and other environmental measures alleviated or exacerbated the problem of increased mercury levels in fish.
For the study, they chose the Gulf of Maine, a well-studied but also exploited marginal sea in the Atlantic Ocean, to understand the trends in mercury accumulation in fish.
The researchers used three decades of data on ecosystem and mercury concentrations and developed a model for mercury bio-accumulation.

The research, published this month in the international peer-review journal Nature

The research broadly studied how climate change impacts mercury accumulation in fish.

The variation in the accumulation of mercury in fish is

the result of changes in sea temperature in the recent years and changes in the dietary pattern of fish due to overfishing.
How mercury accumulates in fishes: There are three factors that result in mercury accumulation in fish
Overfishing:

It leads to dietary changes among marine animals

Variations in the temperature of the sea water:

Which leads to changes in fish metabolism that gears towards survival rather than growth

Changes in the amounts of mercury found in sea water

: This happens as a result of pollution