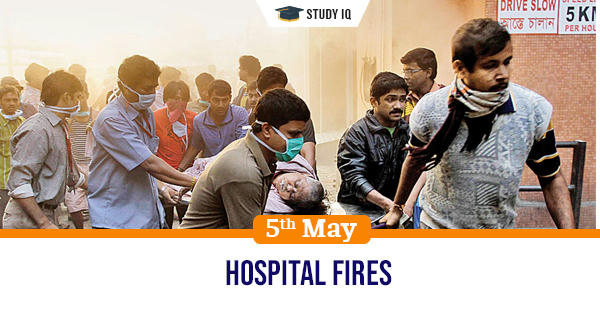 Hospital fires
Date: 05 May 2021
Tags: Disaster & Disaster Management
Issue
Since August more than 90 patients have died in separate incidents of hospital fires with most of them Covid patients.
Details
Experts have blamed stressed infrastructure as the main culprit behind the increase in fire related incidents.

In past couple of weeks, the number of patients admitting in hospital is growing. To accommodate the growing number hospitals have been increasing their capacity.

There is increase in beds, staff and equipment to cater to the growing demand. However, the hospitals are not able to expand electrical wiring system.

Electrical wires carrying electricity for increasing number of medical equipments have put a load on their maximum capacity, causing it to heat.

Most of the incidents of fires occurred in ICU wards. This is because hospitals have increased the capacity without considering the effects on infrastructure.

In addition to ventilators, new machines such as oxygen concentrators and air conditioners are working continuously without a break or cooling period.

ICUs have increase in inflammable material such as sanitizers, vapours, oxygen gas, PPE kits etc, which can easily catch fire and spread.
Alternative plans
Instead of air conditioners, which cannot work 24 hours, air handling units (AHU) must be installed as they can work for more time without stress.

Cross ventilation must be performed in ICUs so that fumes can be given an outlet. This ventilation will prevent accumulation of poisonous gas and save lives.