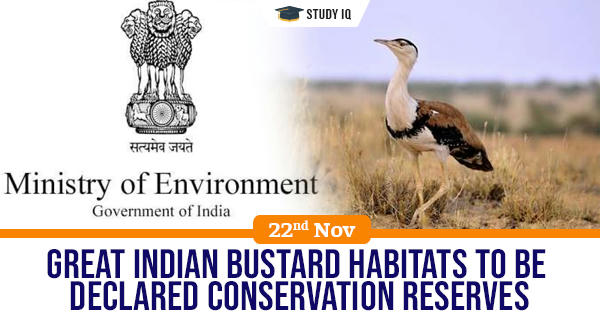 Great Indian Bustard habitats to be declared conservation reserves
Date: 22 November 2019
Tags: Biodiversity
Issue
The Ministry of Environment has decided to declare Great Indian Bustard (GIB) habitats as conservation reserves after there were widespread report of their deaths due to causes such as electric shocks.
Background
The ministry has also decided to have time bound action plan for the implementation of mitigation measures such as installation of bird diverters and their regular maintenance and monitoring by power agencies.
Details
As per a report by the Wildlife Institute of India (WII), a statutory body under the Ministry of Environment, only 150 GIBs are left in India, out of which around 90% are found in Rajasthan and Gujarat.

The GIBs are dying at the rate of 15% annually due to collision with high voltage power lines, the WII report had said, adding that their population has been reduced by 75% in the last 30 years.

Mortality of adult GIBs is high due to collision with power lines that criss-cross their flying path. All bustards are prone to collision due to their poor frontal vision and inability to see the power lines from a distance.

WII's research has shown that power lines, particularly high voltage (33-440 KV) transmission lines with vertical alignment are the biggest threat to GIB.
Great Indian Bustard
The GIB is one of the heaviest flying birds endemic to the Indian subcontinent and are primarily terrestrial.

Maximum number of GIBs are found in Jaisalmer and the Indian Army-controlled field firing range near Pokhran, Rajasthan.

Other areas where they are found in less than 10 in number are Kutch district in Gujarat, Nagpur, Amravati and Solapur districts in Maharashtra, Bellary and Koppal districts in Karnataka and Kurnool district in Andhra Pradesh.

The Conservation status of GIB under IUCN is Critically Endangered and features in Appendix 1 of CITES.
Protection of GIB
The Rajasthan government has initiated Project Great Indian Bustard to protect habitats of the birds in the Desert National Park.