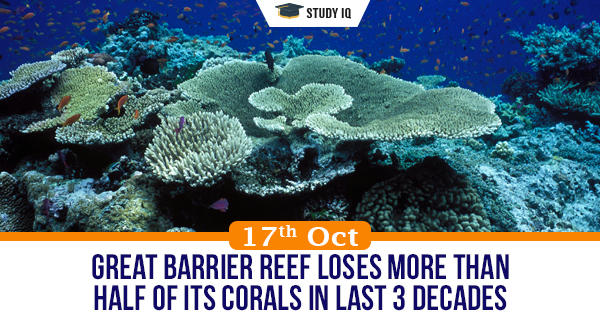 Great Barrier Reef loses more than half of its corals in last 3 decades
Date: 17 October 2020
Tags: Biodiversity
Issue
The Great Barrier Reef in Australia, which is the largest reef system in the world, has lost more than half of its coral population in the past three decades, according to a new study.
Background
The research assessed coral communities and their colony size along the length of the Great Barrier Reef between 1995 and 2017, and found that small, medium, and large corals have all declined in the period.
Details
They found the number of small, medium and large corals on the Great Barrier Reef has declined by more than 50 percent since the 1990s.

The decline occurred in both shallow and deeper water, and across virtually all species - but especially in branching and table-shaped corals.

These were the worst affected by record-breaking temperatures that triggered mass bleaching in 2016 and 2017.

Since the reefs are underwater ecosystems home to several interdependent species, the loss of these corals means a loss of habitat, which in turn diminishes fish abundance and the productivity of coral reef fisheries.

The results show the ability of the Great Barrier Reef to recover is compromised compared to the past, because there are fewer babies, and fewer large breeding adults.

According to the researchers, climate change is driving an increase in the frequency of reef disturbances such as marine heat-waves.

The study recorded steeper deteriorations of coral colonies in the Northern and Central Great Barrier Reef after the mass coral bleaching events in 2016 and 2017.
Barrier reef
A coral reef roughly parallel to a shore and separated from it by a lagoon or other body of water.

A barrier reef is usually pierced by several channels that give access to the lagoon and the island or continent beyond it.