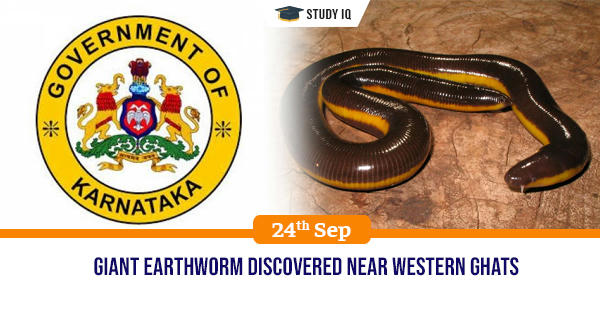 Giant earthworm discovered near western ghats
Date: 24 September 2019
Tags: Biodiversity
Issue
Researchers have accidently discovered a giant eartworm, size of a snake at the foothills of the western ghats in the coastal belt of Karnataka.
Background
The giant earthworm, measuring over three feet in length, has not been reported in the Western Ghats and the coastal belt of Karnataka so far. Its the first time this kind of species has been discovered.
Details
Morphological study of the newly discovered earthworm has tentatively indicated that it belongs to the genus of Moniligaster.

The giant earthworms begin migrating at night during the pre-monsoon and post-monsoon periods.

In India the largest earthworm is Drawida nilamburensis which belongs to the Moniligastridae family. That specimen, from the Nilgiris, measured up to 1,000 mm in length.
The migration of earth worm is a great indicator of soil health and quality. The earthworm also prevent events like landslides etc by keeping soil particles bound.