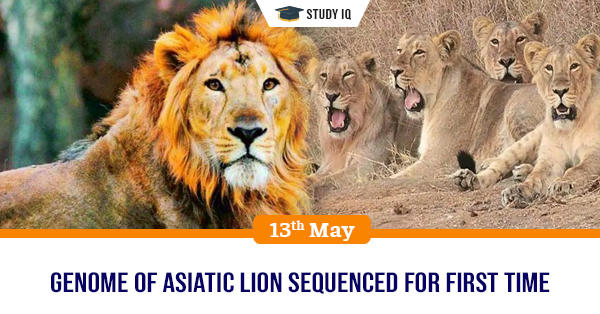 Genome of Asiatic Lion sequenced for first time
Date: 13 May 2019
Tags: Biodiversity
Scientists from CSIR-Centre for Cellular and Molecular Biology, Hyderabad for the first time have sequenced entire genome of Asiatic lion. This firsthand information will help scientists to better understand evolution of Asiatic lions and also make possible comparative analysis with other big cats whose genetic information is available such as such as royal Bengal tiger, African Cheetah and Jaguars.
Significance of genome sequencing
It will enable scientists in better understanding evolution of Asiatic lions, develop specific markers to study population genetics i.e. differences at gene level within a population and provide newer insights into its population status and subsequent management. It will also allow comparative genomics between African and Asiatic lions.
The evaluation of genetic diversity of Asiatic lion also places it in lowest bracket of genomic diversity index highlighting the gravity of its conservation status. It will also help to adopt multi-pronged approach and enable better disease and population management of this endangered big cat by identifying characteristics which are specific to Asiatic lions.
Asiatic Lion
Its scientific name is Panthera Leo Persica. It is cousin of African lion and is believed to have split away 100,000 years ago. It is slightly smaller than African lion. It has distinctive fold of skin along its belly which is not seen in African lion.

Habitat and Distribution:

Gir National Park and Wildlife Sanctuary is only place in the world with wild population of Asiatic lion. Its Gir habitat is compact tract of dry deciduous forest and open grassy scrublands in southwestern part of Saurashtra region of Gujarat.

Major threats:

It currently exists as single subpopulation in Gir habitat has very small genetic pool, making it vulnerable to extinction from unpredictable events, such as epidemic or large forest fire. Destruction of habitat, poaching are other threats.

Protection Status:

It is listed as Endangered on IUCN Red List, Schedule I of Wildlife (Protection) Act 1972 and in Appendix I of CITES.

Asiatic Lion Conservation Project:

It was launched by Union Ministry of Environment in February 2019 for conservation of Asiatic Lion for three years (FY 2018-21).