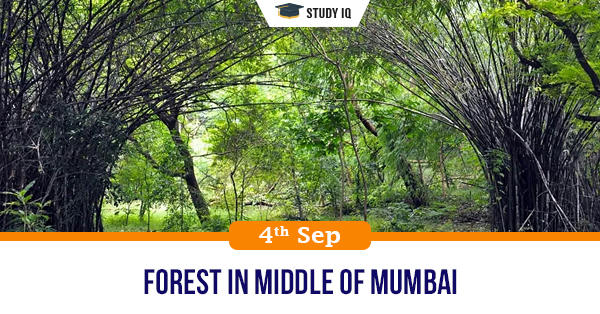 Forest in middle of Mumbai
Date: 04 September 2020
Tags: Climate Change
Issue
Maharashtra Chief Minister Uddhav Thackeray announced that the state government would designate a 600-acre parcel of land in the heart of urban Mumbai as a reserved forest.
Details
The Aarey Milk Colony, spread over 3,162 acres, was established in 1949 as a centre for processing and marketing milk for Mumbai and adjoining areas.

The land falls under the eco-sensitive zone of the Sanjay Gandhi National Park, and is home to around 10,000 individuals who live in 27 tribal hamlets.

Aarey has been at the centre of a storm since October last year, after the Mumbai Metro Rail Corporation Limited (MMRCL) decided to construct a car shed.

Under Section 4 of The Indian Forest Act, 1927, the state government can constitute any land a reserved forest" by issuing a notification in the Official Gazette, declaring that it has been decided to constitute such land a reserved forest, and specifying, as nearly as possible, the situation and limits of such land.

Under the law, the government must also appoint a Forest Settlement Officer (FSO) to inquire into and determine the existence, nature and extent of any rights alleged to exist in favour of any person in or over any land comprised within such limits or in or over any forest-produce, and to deal with the same.

The decision to notify part of Aarey as a forest is seen as an attempt to erect a defence against potential blowback from environmentalists in case the state ultimately goes ahead with building the car shed in Aarey.

The fact that elections to the Brihanmumbai Municipal Corporation (BMC) are less than 18 months away, has also played a role in the announcement. The Shiv Sena would want to claim that it has taken steps to improve the quality of life in Mumbai.