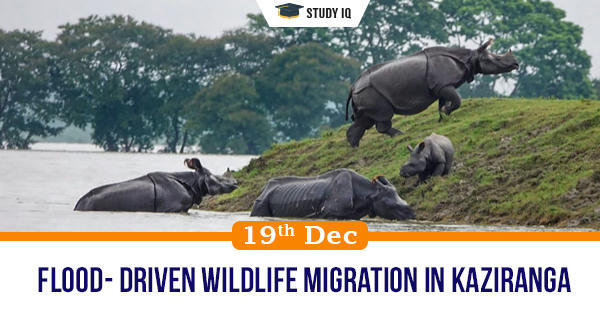 Flood- driven wildlife migration in Kaziranga
Date: 19 December 2020
Tags: Biodiversity
Issue
A team of scientists followed the movement of animals in search of food and relief during flood season in Kaziranga National Park to ascertain their migration pattern.
Background
During the annual flooding season, animals try to migrate to other areas for shelter. The major such migration occurs towards the Karbi-Anglong hills.
Details
The focus of the study was on areas beyond the designated corridors the animals move to, what areas they avoid and whether floods change their preferences.

The scientists also sought probable actions that can be taken to ensure connectivity in the future.

Three of Kaziranga's Big Five animals such as Asian elephant, greater one-horned rhinoceros and Asiatic water buffalo were found to prefer bamboo cover on private lands, primarily tea estates, besides woodlands. The other two in this club are the tiger and swamp deer.

Apart from the elephant, rhino and buffalo, the study found large herbivores such as sambar, hog deer, muntjac or barking deer, the carnivores tiger, leopard, leopard cat, jungle cat and fishing cat. There were civets, porcupines, primates, wild pigs and Indian hare.

The study linked climate change-induced stress and risks animals face in increasingly human-dominated landscapes.
Kaziranga National Park
Kaziranga National Park is a national park in the Golaghat, Karbi Anglong and Nagaon districts of the state of Assam. The sanctuary hosts two-thirds of the world's great one-horned rhinoceroses and is a World Heritage Site.

The park is home to large breeding populations of elephants, wild water buffalo, and swamp deer. Kaziranga is recognized as an Important Bird Area by BirdLife International for conservation of avifaunal species.

Located on the edge of the Eastern Himalaya biodiversity hotspot, the park combines high species diversity and visibility.