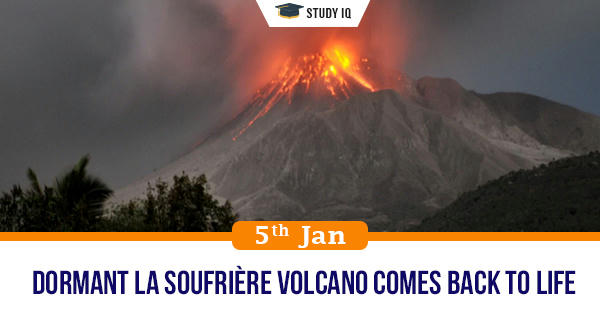 Dormant La Soufrière volcano comes back to life
Date: 05 January 2021
Tags: Disaster & Disaster Management
Issue
Residents of St. Vincent and the Grenadines have been told to remain alert after a Caribbean volcano came back to life.
Background
La Soufrière is the highest point in St. Vincent and is located near the northern tip of the country but remained dormant for decades.
Details
The country's government raised the alert level to orange, meaning that eruptions could occur with less than 24 hours' notice.

La Soufrière last erupted in 1979 but did not cause any harm due to warning, while a 1902 eruption led to 1,600 deaths.

In December, Hawaii's Kilauea volcano erupted for the first time since 2018 and created a 600ft deep lava lake, according to NPR.

However, the most active volcanoes in the Americas have been the Soufrière Hills in Montserrat, which have erupted continuously since 1995 and killed at least 19 people in 1997.
Volcanic eruptions
Volcanic eruptions happen when lava and gas are discharged from a volcanic vent. Several types of volcanic eruptions have been distinguished by volcanologists.

There are three different types of eruptions. The most well-observed are magmatic eruptions, which involve the decompression of gas within magma that propels it forward.

Phreatomagmatic eruptions are another type of volcanic eruption, driven by the compression of gas within magma, the direct opposite of the process powering magmatic activity.

The third eruptive type is the phreatic eruption, which is driven by superheating of steam via contact with magma. These eruptive types often exhibit no magmatic release, instead causing the granulation of existing rock.

There are two types of eruptions in terms of activity, explosive eruptions and effusive eruptions.

Explosive eruptions are characterized by gas-driven propellation of magma and tephra. Effusive eruptions, meanwhile, are characterized by the outpouring of lava without significant explosive eruption.