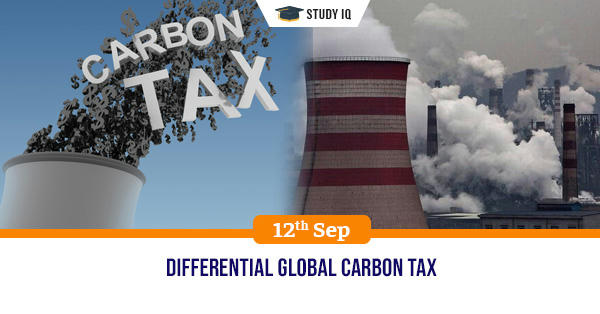 Differential global carbon tax
Date: 12 September 2019
Tags: Climate Change
Issue
Owing to high emisions by northern countries,a just approach would be global sharing of the responsibility among countries according to their respective shares in global emissions.
Background
Climate change is a global problem, and a global problem needs a global solution. The most recent Intergovernmental Panel on Climate Change (IPCC) report suggests that humankind might have just over a decade left to limit global warming.
Details
The Inter-governmental Panel on Climate Change says total global emissions will need to fall by 45% from 2010 levels by 2030 and reach net zero by 2050.

If these targets are not met, densely populated tropical regions of the world mainly concentrated in the global South, are likely to be most negatively affected because of their low altitudes and pre-existing high temperatures.

The global South, which has historically contributed less to the problem happens to be at the receiving end of the lifestyle choices made by the global North.

The burden of adjustment cannot be equal when the underlyin relationship between the two worlds has been historically unequal.

The most accepted model of mitigating strategy has been the carbon trading process. However, it has its own limitations.
How to reduce global emissions?
Changing the energy infrastructure, which requires massive investments for the green energy programme across the world.

The countries on the top of the emission charts, apart from funding their own energy transition, should partially support the transition for the countries at the bottom by sharing of the burden of development.

For successful energy transition to greener renewable sources, countries have to spend around 1.5% of their GDP.The global energy transition should be financed through a system of the global carbon tax.
Differential Tax system
It is a method of taxation where there is increase the tax burden for countries with high emissions while providing tax benefits for those with low emissions.