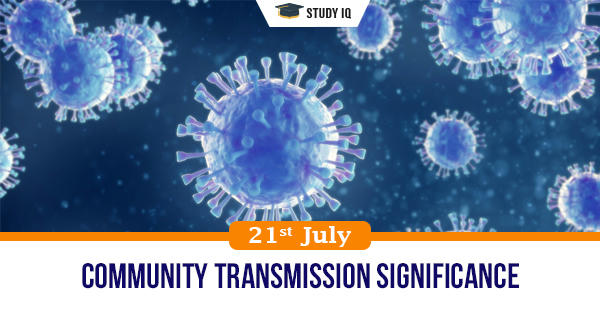 Community transmission significance
Date: 21 July 2020
Tags: Disaster & Disaster Management
Issue
The government continues to insist that the disease has still not reached a stage where community transmission starts to happen even as COVID cases have surged past 1.2 million.
Background
Community transmission simply means that the epidemic has become so widespread in a community that it gets difficult, if not impossible, to determine who is passing on the infection to whom.
Details
Determining the chain of infections is key to the containment strategy that is being followed. Contact tracing, identification, testing, and isolation of suspect cases are all dependent on establishing this chain.

In the initial days, when the disease was being brought by travellers from abroad, every infected person was being checked for their travel history or their contact with someone who had a travel history.

The government's repeated statements about the absence of community transmission was also seen as a move to reassure the public that only a small proportion of people, those who had come in contact with travellers abroad, could potentially be at risk, and thus there was no need for others to panic.

With active cases increasing continuously and most of them unable to link their transmission source, it becomes evident that community transmission has indeed taken place.

The government may deny this charge because once you accept that there is community transmission, then none of these containment zones, red zones, or green zones make any sense and people might be reluctant to follow guidelines.

It is a fact that the lockdown, movement restrictions, and the adoption of masks and other precautions, has kept the rural areas largely protected from the disease. But it does not prove the absence of transmission to the community.

The government has nothing to lose while accepting community transmission. The same processes will have to be carried out, Test, isolate, treat. For the general public also, there is nothing that will change.