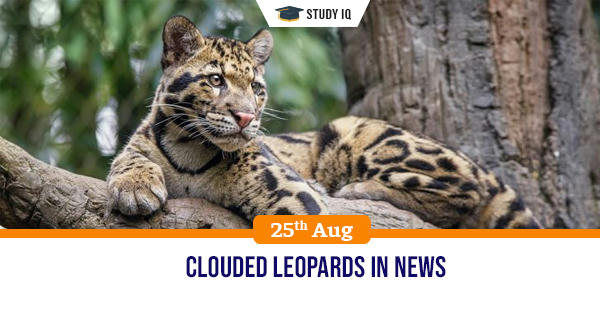 Clouded Leopards in News
Date: 25 August 2019
Tags: Biodiversity
Issue
Research paper published by over 20 researchers from across the globe has helped understand habitats, migration corridors of clouded leopards and laid out the conservation strategies.
Background
The clouded leopard is a wild cat occurring from the Himalayan foothills through mainland Southeast Asia into China. Since 2008, it is listed as Vulnerable on the IUCN Red List.

Clouded leopards are named after the cloud-shaped patterns on its skin, these medium-sized cats are typical rain-forest dwellers but can also be found in the drier forests of Southeast Asia.
Details
During research in nine countries (Bhutan, Nepal, India, Peninsular Malaysia, Thailand, Vietnam, Cambodia, Laos, Myanmar) it was found that only 9.44% of the studied region was 'highly' suitable for clouded leopards (Neofelis nebulosa).

In India, the Dampa tiger reserve in Mizoram was chosen as the study site. Dampa has been much in the news lately as one of the tiger reserves where tigers were estimated to be zero as part of the latest all India tiger estimation exercise.

India has added clouded leopards to its Recovery Programme for Critically Endangered Species to aid more research and strengthen conservation efforts.

As forest cover declined by 35%, clouded leopard detection rate dropped to 25%. Deforestation and reduction in rainfall patterns as a result of climate change may negatively influence clouded leopard distributions.