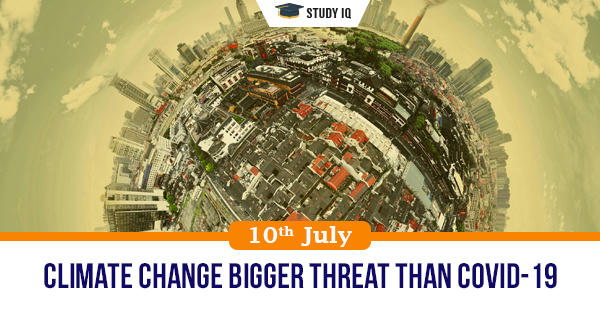 Climate change bigger threat than covid-19
Date: 10 July 2020
Tags: Climate Change
Issue
Poor air quality and climate change pose a bigger threat to people's health and the economy than coronavirus, scientists have warned.
Background
The letter calls for scientific advisors to be involved in developing economic policy in the aftermath of the pandemic.
Details
The COVID-19 pandemic has seen CO2 emissions drop significantly worldwide, but with the resumption of normal business activities, they are likely to accelerate.

The Intergovernmental Panel on Climate Change (IPCC) reported that to avoid the most destructive impacts of climate change – drought and rising sea levels causing crop failure, population migration, infrastructure adaptation, and wildlife displacement, among others - it was imperative to limit global warming to the 1.5°C temperature goal set by the Paris Agreement by 2050.

There's growing evidence, for instance, that air pollution makes us more susceptible to the disease and makes us more likely to have a bad outcome should we get it.

There's convincing evidence too that diseases like Covid-19 are more likely to emerge as we destroy the natural world.

Pollution could lead to cardiovascular and respiratory diseases, with possible links also to dementia and diabetes, as well as weight gain in babies and lung development in children.

Termed "revenge pollution", post-recession hikes in emissions, are now anticipated to be one of the biggest threats we face in our efforts to avert the climate crisis.

The pandemic has shown three key things: that collective action is possible, science matters, and should be taken seriously and that government can and should act rapidly to lead.

Efforts to pedestrianise cities, encourage walking and cycling, and increasing how much energy is supplied by renewable sources should be sped up, as well as businesses getting money to help cut energy consumption and waste.