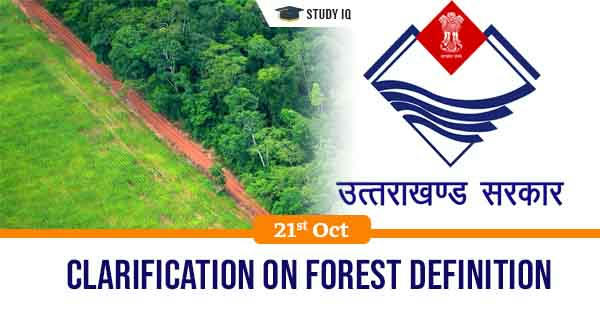 Clarification on forest definition
Date: 21 October 2019
Tags: Forests
Issue
The Uttarakhand government had put forth a set of criteria defining forest land and asked the ministry for it's opinion.
Background
Since 2014, the Ministry of Environment, Forest and Climate Change (MoEF&CC) has been considering evolving a legal definition of forest and reportedly prepared drafts as late as 2016.
Details
The freedom to define land which is not already classified as forests by the Centre or state records as forest has been under jurisdiction of the States since 1996. This provision emerges from a Supreme Court order called the Godavarman judgement.

The 1996 Supreme Court judgement expanded the definition of forest to include lands that were already notified by the Centre as forests, that appear in government records as forests as well as those that fell in the "dictionary definition" of forest.

The last clause allows the States to evolve their own criteria and define tracts of land as forest, and these would then be bound by forest conservation laws.

An all-encompassing definition of 'forest' is not possible for India, because the country had 16 different kinds of forest. A tract of grassland in one State might qualify in one region as forest, but not in another.
Significance
Defining a land as a forest is important in preventing encroachment of a patch of land, which otherwise could be misused.

Preventing cutting of trees, which are vulnerable if not defined as part of forest.