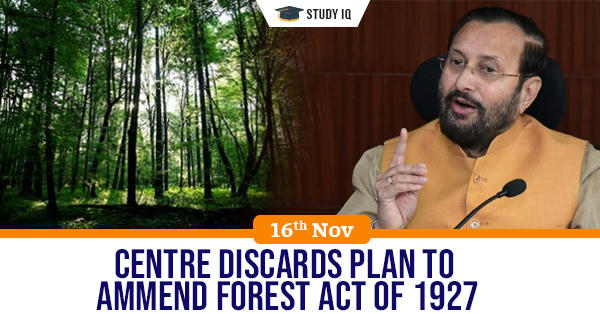 Centre discards plan to ammend Forest Act of 1927
Date: 16 November 2019
Tags: Forests
Issue
The Union Environment Ministry on Friday withdrew a draft amendment that proposed updates to the Indian Forest Act, 1927. Activist groups and some State governments had protested this proposed law.
Background
The Indian Forest Act, 2019, was envisaged as an amendment to the Indian Forest Act, 1927, and an attempt to address contemporary challenges to the country's forests. The draft law had been sent to key forest officers in the states for comments and objections.
Details
The intended legislation also proposed a forest development cess of up to 10% of the assessed value of mining products removed from forests, and water used for irrigation or in industries.

This amount would be deposited in a special fund and used "exclusively for reforestation; forest protection and other ancillary purposes connected with tree planting, forest development and conservation," the draft document noted.
Highlights of proposed changes to Forest Act 1927
The amendment defines community as "a group of persons specified on the basis of government records living in a specific locality and in joint possession and enjoyment of common property resources, without regard to race, religion, caste, language and culture".

Forest is defined to include "any government or private or institutional land recorded or notified as forest/forest land in any government record and the lands managed by government/community as forest and mangroves, and also any land which the central or state government may by notification declare to be forest for the purpose of this Act."

The amendments say if the state government, after consultation with the central government, feels that the rights under FRA will hamper conservation efforts, then the state "may commute such rights by paying such persons a sum of money in lieu thereof, or grant of land, or in such other manner as it thinks fit, to maintain the social organisation of the forest dwelling communities or alternatively set out some other forest tract of sufficient extent, and in a locality reasonably convenient, for the purpose of such forest dwellers".

The amendment also introduces a new category of forests — production forest. These will be forests with specific objectives for production of timber, pulp, pulpwood, firewood, non-timber forest produce, medicinal plants or any forest species to increase production in the country for a specified period.