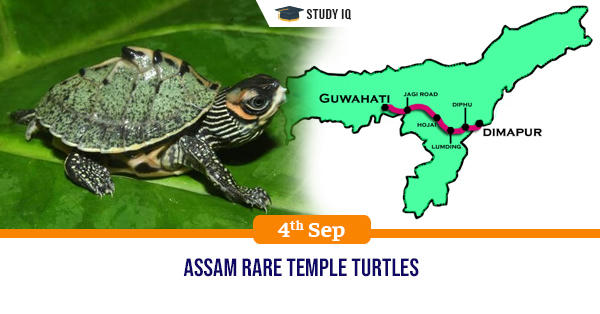 Assam rare temple turtles
Date: 04 September 2019
Tags: Biodiversity
Issue
About 70 hatchlings of the rare Black Softshell and Indian Softshell turtles bred in the ponds of two temples in Assam were on released in the Pobitora Wildlife Sanctuary, about 50 km east of Guwahati.
Background
Freshwater turtles are very important for maonitaining balance in the ecosystem. They are involved in seed dispersal, pest eradication and other activities that makes their role significant.
Details
The Pobitora sanctuary is often called 'Mini Kaziranga' because of similar landscape and a sizeable population of the one-horned rhino.

The "wild restocking" of the two turtle species was done under a joint programme of the management committees of two temples , Ugratara in Guwahati and Hayagriv Madhav in Hajo in Assam.

The wild restocking programme is important for sustaining turtles in the Brahmaputra river system, especially the Black Softshell (Nilssonia nigricans

) that is considered extinct in the wild.
Freshwater turtles
Assam is the most species-rich State in India in terms of turtle diversity. It is home to 20 species of freshwater turtles and tortoises out of 29 species found in India. But, 80% of these species are threatened with extinction
The Black softshell turtles are classified as endangered in India. They are declared as extinct in wild.