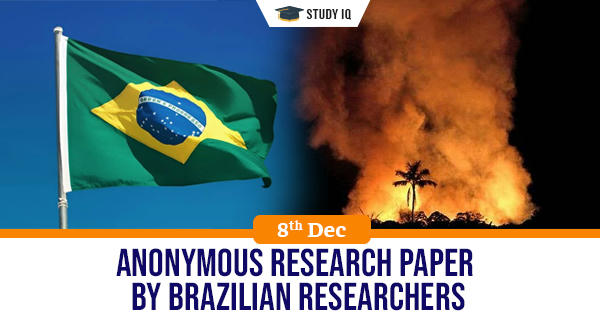 Anonymous research paper by Brazilian researchers
Date: 08 December 2019
Tags: Forests
Issue
A research paper published in Global Change Biology has refused to acknowledge the names of the contributors for the research article owing to threats from organised crime syndicates and government.
Background
Director of Brazil's National Space and Research Institute (INPE) was terminated after he defended satellite data that showed that deforestation was 88% higher in June compared with data a year ago.
Details
Brazilian scientists researching the widespread Amazon wildfire months ago have been scared they might lose their job if their identity is revealed and so preferred to remain anonymous in the paper.

The paper set out to evaluate if the government claims that the forest fire was 'normal' and "below historical average" was indeed true.

The researchers looked at the longer term trends in active fires and annual deforestation.

They also looked at recent monthly deforestation trends. Based on these data, the team concluded that the number of active fires in August 2019 was nearly three times higher than the corresponding figure in August 2018 and the highest since 2010.

The increase in fires has occurred in the absence of a strong drought, which can be a good predictor of fire occurrence, according to the paper.

The government is trying to undermine scientific institutions through a withdrawal of funds and cuts to high-profile staff represent an ideological attack on scientists who might speak out about the consequences of the deforestation.
Funding for science has come from outside Brazil, especially European consortium of 26 nations, which has offered $28 million in research funding for biodiversity and conservation projects.