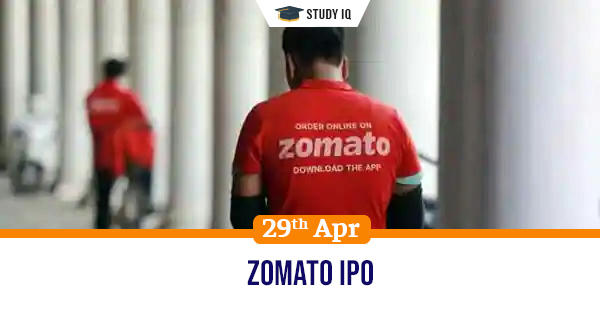 Zomato IPO
Date: 29 April 2021
Tags: Miscellaneous
Issue
Online food delivery platform Zomato has filed a draft red-herring prospectus with the SEBI for initiating Rs 8,250 crore initial public offering (IPO).
Background
Pandemic has ravaged all sectors of economy but food delivery has increased its business. This favourable outcome has influenced decision for IPO.
Details
Zomato's gross order value was Rs 2981 crore during the October 2020 to December 2020 quarter, which was higher than the same quarter previous year.

Zomato's unit economics has improved greatly with increase in commission charges and also decrease in discounts offered.

It will take up to two weeks before SEBI reviews the filings and process of launch can be initiated in the market.
Previous instances of consumer companies going public
Several Indian companies involved in consumer internet business have gone public before. These include MakeMyTrip.com, Yatra.com in the US.
Initial Public Offering
Initial Public Offering is a process in which shares of a company will be sold to institutional investors and also retail investors through share market.

This process allows a company to raise capital from market by giving buyers stake in the company. The stake does not involve voting rights.

This process can be termed an exit strategy for initial backers and owners of the company as they will recover back their investments.