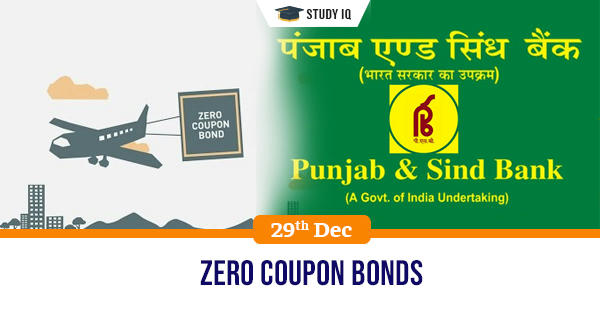 Zero coupon bonds
Date: 29 December 2020
Tags: Miscellaneous
Issue
The government has used financial innovation to recapitalise Punjab & Sind Bank by issuing the lender Rs 5,500-crore worth of non-interest bearing bonds.
Background
The funds raised through issuance of these instruments are being deployed to capitalise the state-run bank, which are reeling under debt.
Details
These bonds will earn no interest for the subscriber but market participants term it both a 'financial illusion' and 'great innovation' by the government where it is using Rs 100 to create an impact of Rs 200 in the economy.

Since these bonds are not tradable, the lender has kept them in the HTM bucket, not requiring it to book any mark-to-market gains or losses from these bonds.

This is considered an innovative way to capitalise banks, which does not affect the fiscal deficit while at the same time provides much needed equity capital to the banks.

Zero coupon bonds by private companies are normally issued at discount, but since these special bonds are not tradable these can be issued at par.
Zero coupon bonds
A zero-coupon bond is a debt security that does not pay interest but instead trades at a deep discount, rendering a profit at maturity, when the bond is redeemed for its full face value.

Some bonds are issued as zero-coupon instruments from the start, while others bonds transform into zero-coupon instruments after a financial institution strips them of their coupons, and repackages them as zero-coupon bonds.
Held To Maturity (HTM)
Held to Maturity securities are the debt securities acquired with the intent to keep it until maturity. This type of security is recorded as an amortized cost on the financial statements of a company and is usually recorded in the form of the debt security with a particular maturity date.