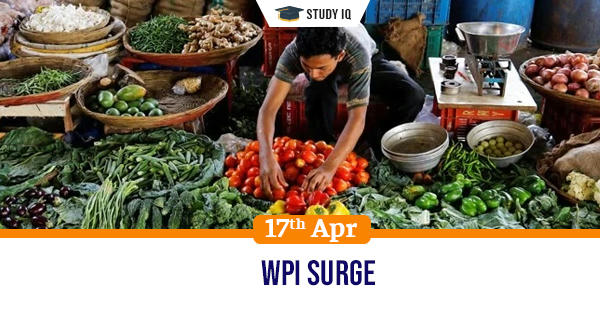 WPI surge
Date: 17 April 2021
Tags: Miscellaneous
Issue
The Wholesale Price Index (WPI) in the country has grown to 7.39 per cent in March on a year-on-year basis.
Background
The WPI is an indication of inflation levels in the country at the wholesale level. This was the highest level since October 2012.
Details
The major reason for surge in WPI levels was the higher prices of crude oil and a growth in price levels of food items like fruits and pulses.

The surge was also high due to the low base in the corresponding month in the year 2020.

The WPI tracks prices of goods at the wholesale, or factory gate/mandi levels. The Consumer Price Index (CPI) tracks inflation levels at retail level.

The difference between CPI and WPI is that CPI tracks prices without considering transportation cost, taxes and the retail margin etc. WPI does not consider services.

The WPI basically considers the average movement of wholesale prices of goods and is a GDP deflator primarily.
Significance
The higher inflation at the wholesale level can impact the inflation in retail level if lockdowns and restrictions will impact supply chain.

Higher WPI rates may force the Monetary Policy Committee from undertaking rate cuts in the future.
GDP deflator
It is the ratio of the value of goods an economy produces in a particular year at current prices to that of prices that prevailed during the base year.