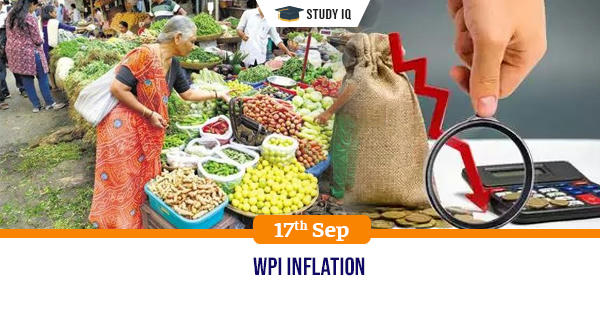 WPI inflation
Date: 17 September 2019
Tags: Basics of Economics
Issue
India's wholesale price inflation remained unchanged at 1.08% in August as inflation for manufactured items fell to 0%, which showed the reduction of pricing power of producers.
WPI
The Wholesale Price Index (WPI) is the price of a representative basket of wholesale goods.

The WPI is published by the Economic Adviser in the Ministry of Commerce and Industry.

The Wholesale Price Index focuses on the price of goods traded between corporations, rather than goods bought by consumers, which is measured by the Consumer Price Index.

The purpose of the WPI is to monitor price movements that reflect supply and demand in industry, manufacturing and construction. This helps in analyzing both macroeconomic and microeconomic conditions.
Details
Many manufactured items has seen negative inflation or deflation including vegetable and animal oils, leather and apparel products, paper, rubber, chemicals, steel, basic metals among others.

Fuel inflation also fell into negative territory. However, this may be short-lived due to disruption in crude oil supply from Saudi Arabia.

Food inflation accelerated to 7.67% in August from 6.15% a month ago.
Implications
Although RBI does not consider WPI inflation for implementing its monetary policy, low level of retail inflation and sagging growth conditions may force RBI to cut policy rate for fifth consecutive time.