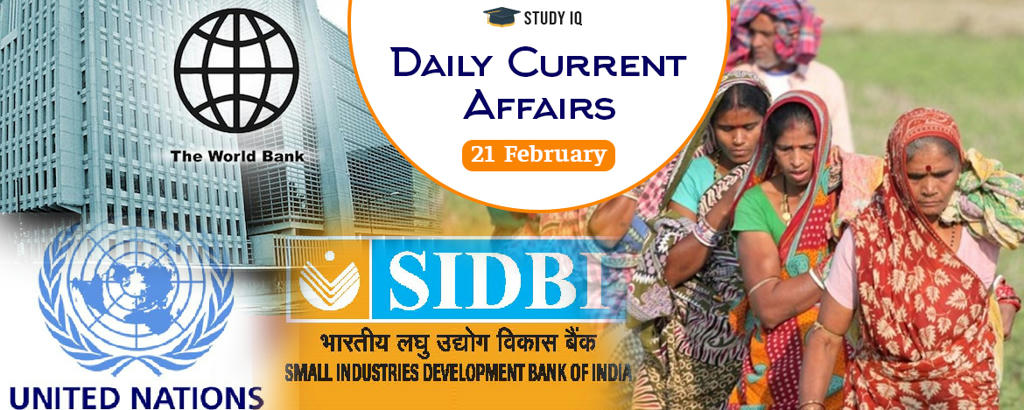 World Bank, UN, SIDBI launches Women's Livelihood Bond
Date: 21 February 2019
Tags: Public Finance
Small Industries Development Bank of India (SIDBI) in association with World Bank and United Nations (UN) Women has launched Rs. 300 crore Women's Livelihood Bonds (WLBs). The proceeds from these social impact bonds, will be used to help rural women in the country's poorest States to set up or scale up their own enterprises. WBL will be placed with leading wealth managers and corporates in the country on private placement basis.
Women's Livelihood Bond (WLB)
It will be unsecured, unlisted bonds and offer fixed coupon rate of 3% per annum to bond investors. They will have tenure of five years.

Proceeds from it will enable individual women entrepreneurs in sectors like food processing, agriculture, services and small units to borrow around Rs 50,000 to Rs 3 lakh at annual interest rate of around 13-14% or less.

SIDBI will act as financial intermediary

and channel funds raised through these bonds to women entrepreneurs through participating financial intermediaries like banks, NBFCs or microfinance institutions.

It will be backed by corpus fund to be mobilised through corporate social responsibility (CSR) contributions and via grant support from UK's Department for International Development.

The corpus guarantee will cover enable women entrepreneurs to access credit at much lower rates of interest.
Significance of WLB
It will enable women self-help groups (SHGs) to graduate from 'group borrowing' to 'individual borrowing'.

It will also allow them to shift from development assistance towards more market-financed programs.
Small Industries Development Bank of India (SIDBI)
It is principal development financial institution for promotion, financing and development of Micro, Small and Medium Enterprises (MSME) sector in India.

It is statutory body established on April 2, 1990. It is headquartered in Lucknow, Uttar Pradesh.

It facilitates and strengthen credit flow to MSMEs and address both financial and developmental gaps in MSME eco-system across the country.

It also co-ordinates functions of institutions engaged in similar activities. It provided refinance facilities and short term lending to industries and serves as principal financial institution in MSME sector.

Note:

It is one of the four All India Financial Institutions regulated and supervised by Reserve Bank of India (RBI); other three are EXIM Bank, NABARD and NHB.