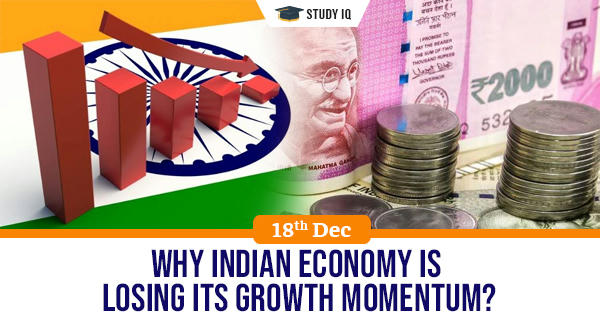 Why Indian economy is losing its growth momentum?
Date: 18 December 2019
Tags: Basics of Economics
Issue
Indian economy is losing its momentum and going towards slowdown at this point. But until March 2017, the Indian economy was not only growing at a progressively rapid pace but was also the fastest-growing major economy in the world.
Background
In a new working paper published by Harvard University's Center for International Development, Arvind Subramanian, who was India's chief economic advisor and Josh Felman, former IMF resident representative to India, give a detailed understanding of how the Indian economy lost its way.
Details
They argue that Indian economy is facing both structural (that is, more long-term issues related to the overall framework of the economy such as the flexibility or inflexibility of labour laws etc.) and cyclical (that is, more short-term issues such as a bad monsoon that disrupts production of food articles etc.) challenges.

Since the causes are both structural and cyclical, arresting this economic slowdown is proving to be so difficult as the measures that would have alleviated a cyclical slowdown fail because structural reasons are also involved.

They also highlight the twin-balance sheet (TBS) problem that India faced since 2014. They show that as the years rolled by the TBS problem morphed into a "four balance sheet challenge" for the economy.

Authors pointed out that the balance sheets of Indian banks were burdened by a high proportion of non-performing loans and the balance sheet of corporates were clogged because they had over-borrowed and were unable to pay.

When the economy was growing at near double digits, companies borrowed heavily from the market hoping for a future profit.

The banks, especially the government-owned ones, too, ignored prudential norms and lent a lot of money to companies in the hope that this would help boost economic growth.

As it happened, economic prospects collapsed quite sharply after the Global Financial Crisis (GFC) and a high proportion of companies found that their projects were no longer viable.

The end result was that the companies were left with huge loans they could not pay back in time and the banks were left with huge loans that had turned duds.

But unlike in the developed world, where such companies would have been declared bankrupt and liquidated or where such banks would have sunk, in India, both the companies and the banks survived. This created a long term burden on economy.

The GDP kept increasing even after TBS because, during 2015 and 2016, international crude oil prices fell to a third of what they were in 2014. This essentially meant that Indians could spend more, that boosted the GDP.

India's growth was boosted by a lending spree provided by non-banking financial companies (NBFCs) like IL&FS and DHFL.

NBFCs took over the leading role of lending to the economy because banks were still struggling with NPAs and were largely unwilling to lend directly to businesses.
How did the slowdown start?
There are two broad but interlinked reasons. One, the unresolved TBS problem, and two, the fall of NBFCs and the real estate sector. Together, they make for the Four Balance Sheet Challenge for the Indian economy.

The unresolved TBS problem provided a progressively weakening ecosystem of banks and companies, the collapse of some of the leading NBFCs has proven to be trigger for the sharp growth deceleration.

Most of the funding from NBFCs was challened to one sector, the real estate. Due to global financial crisis the demand for flats went down leading to failure of real estate sector to pay back loans to NBFCs.
Solutions
Structural changes to economic condition including solving the Twin Balance Sheet problem.

Increasing consumption so as to boost the economic growth and GDP through measures like tax cut.

Encouraging investments in major sectors such as real estate in order to kickstart stuck up projects.

Keeping government spending intact so that core industries like cements, steel remain functioning.

Encouraging foreign investments so that short term liquidity crisis can be effectively tackled.
Twin Balance Sheet Problem
Twin balance sheet problem refers to the stress on balance sheets of banks due to non-performing assets (NPAs) or bad loans on the one hand, and heavily indebted corporates on the other.