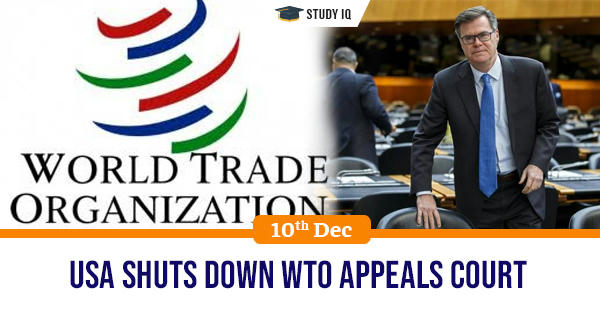 USA shuts down WTO appeals court
Date: 10 December 2019
Tags: Economic Organizations
Issue
The US has decided to shut down the appeals court in WTO in response to WTOs decisions against the federal trade rules imposed by the administration.
Background
Among the disputes left in the court are seven cases that have been brought against Trump's decision to declare foreign steel and aluminum a threat to U.S. national security and to hit them with import taxes.
Details
The WTO's lower court, the dispute settlement body can hear cases. But its decisions will go nowhere if the loser appeals to a higher court that is no longer functioning.

Without having to worry about the WTO, countries could use tariffs and other sanctions to limit imports. Such rising protectionism could create uncertainty and discourage trade.

The panel is supposed to have seven judges. The US has blocked new appointments to protest the way the WTO does business.

Critics say that cases take too long to resolve, that the panel often overreaches in its rulings and the agency is ill-equipped to deal with the challenge posed by the Chinese economy's unconventional blend of capitalism and state control.

The EU and other countries have been working to set up an temporary appellate body to arbitrate future trade disputes. But that's just a stopgap. And it is uncertain how many countries might join in.

The WTO was set up in 1995 to write and regulate the rules of global trade. The WTO's dispute settlement process, including the Appellate Body, was meant to establish that written rules, not arbitrary power, governed global trade.
WTO dispute settlement body
The General Council convenes as the Dispute Settlement Body (DSB) to deal with disputes between WTO members.

Such disputes may arise with respect to any agreement contained in the Final Act of the Uruguay Round that is subject to the Understanding on Rules and Procedures Governing the Settlement of Disputes (DSU).

The DSB has authority to establish dispute settlement panels, refer matters to arbitration, adopt panel, Appellate Body and arbitration reports, maintain surveillance over the implementation of recommendations and rulings contained in such reports, and authorize suspension of concessions in the event of non-compliance with those recommendations and rulings.