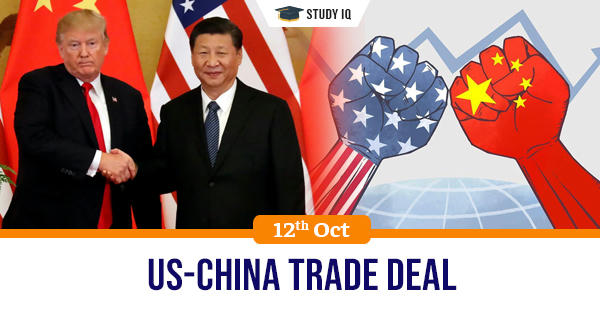 US-China trade deal
Date: 12 October 2019
Tags: Miscellaneous
Issue
The United States and China have agreed to the first phase of a deal to end the trade war. This has prompted President Trump to suspend the tariff hikes imposed on China.
Background
This is one of the biggest step toward resolution of a 15-month tariff war between the world's two largest economies that has hit financial markets and slowed global growth.
Details
The accord contains provision for agriculture, currency and some aspects of intellectual property protections, which is expected to normalise relations up to certain extent.

Mr. Trump has also agreed not to proceed with a hike in tariffs to 30% from 25% on about $250 billion in Chinese goods that was supposed to have gone into effect.
US-China tariff wars
The China–United States trade war was an ongoing economic conflict between the world's two largest national economies, China and the United States.

President Donald Trump in 2018 began setting tariffs and other trade barriers on China with the goal of forcing it to make changes to "unfair trade practices".

Among those trade practices and their effects are the growing trade deficit, the theft of intellectual property, and the forced transfer of American technology to China.

In the United States, the trade war has brought struggles for farmers and manufacturers and higher prices for consumers.

In other countries it has also caused economic damage, though some countries have benefited from increased manufacturing to fill the gaps.
Effect on India
India could increase its trade footprint in the midst of the US-China trade conflict, particularly under categories on which Washington has imposed tariffs on Beijing.

Diversion in investment flows is an opportunity that India could benefit from, as manufacturers seek alternative origination destinations away from China.