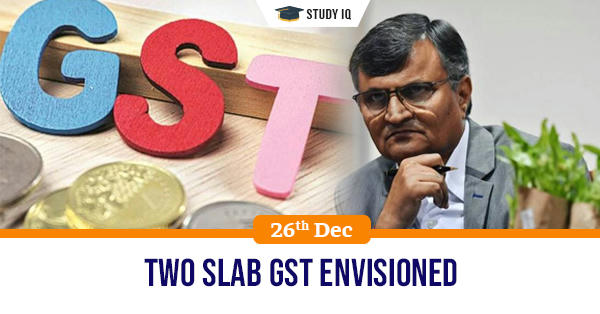 Two slab GST envisioned
Date: 26 December 2019
Tags: Miscellaneous
Issue
Government think-tank NITI Aayog Member Ramesh Chand has made a case for only two slabs under the Goods and Services Tax (GST) regime as against the current multiple slabs.
Background
The GST, which replaced almost all the indirect taxes, came into force on July 1, 2017 and the tax rates have been revised several times since then.
Details
Currently, there are four GST rate slabs, 5%, 12%, 18% and 28%. Several items fall in the exempt or nil duty category. Besides, cess is also levied on five goods.

Besides frequent demand for reduction in the rates on various goods and services, there has also been expectations for a slash in the number of tax slabs.

The focus should be on steady increase in revenue collection from the new indirect tax regime rather than tinkering with rates.
Benefits of lesser tax slabs in GST system
Since the tax slabs will be reduced significantly, there will be less confusion among business fraternity regarding the tax rates while filing returns.
Lowering the tax slabs will reduce the rates on certain fast moving consumer goods. This will in turn boost consumption and growth.
Now that the slabs are reduced, there will be better chance for government to predict revenue estimation from GST as chances for going wrong will be low.