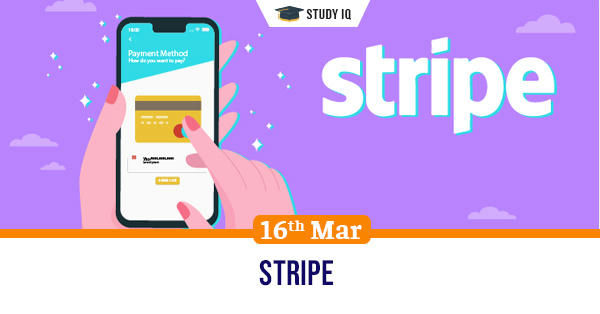 Stripe
Date: 16 March 2021
Tags: Miscellaneous
Issue
Stripe Inc. has become the most valuable US start-up after it was valued at $95 billion owing to latest round of funding.
Background
Stripe is an online payments processing company. The latest evaluation overtook companies such as SpaceX and Instacart Inc.
Details
Stripe was founded by Patrick Collison and his younger brother John in 2010. Their net worth jumped to $11.4 billion each after the latest valuation.

The company's software is used by e-commerce giants to accept payments. Customers of stripe include Amazon, Salesforce, and Lyft.

Stripe has invested in its European operations for supporting its growing demand and expanding its global payments and treasury network.

Primary investors of Stripe include the digital investment unit of Allianz Group, Baillie Gifford, Axa SA, Fidelity Management & Research Co., Sequoia Capital and Ireland's National Treasury Management Agency.

In April 2020, Stripe was valued at $35 billion when it raised $600 million from investors such as Andreessen Horowitz and Sequoia Capital.

Stripe has benefitted immensely from the e-commerce boom that was enhanced by the coronavirus pandemic.