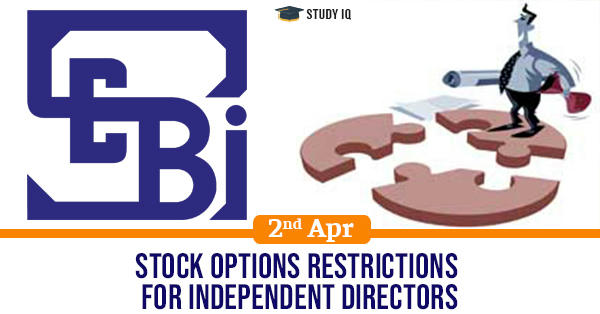 Stock options restrictions for independent directors
Date: 02 April 2021
Tags: Miscellaneous
Issue
India Inc has demanded removing those stock option restrictions that restricts offering stocks for independent directors as part of their compensation salary.
Background
SEBI had published a paper that had asked for public opinion on allowing stocks as part of compensation to independent directors.
Details
Currently, the law allows payment of 1lakh per board meeting for independent directors and certain compensation in form of profits. It has put restrictions on giving stocks.
Reasons for restrictions
Regulations are framed for preventing any conflict of interest to rise due to the independent directors becoming shareholders.

The idea behind introducing independent directors was to see to it that they keep a watch for the interest of the shareholder and they should not be influenced by their own interest.

If independent directors are given stake in company, they will become part of the company and their independence will be compromised.

Independent directors will become more indulged in their profits that they will not object to bad practices to improve the share price.
Reason for new demands
The move is expected to attract and retain best individuals as independent directors. It will provide a fitting compensation for the commitment shown by the individual.
Middle path
If restrictions are removed then new rules have to be framed to prevent independent directors from selling their shares for a lock-in period.

New details can be formed such as limit of number/value, valuation methodologies, lock-in periods, pre-approval by Board and shareholders.