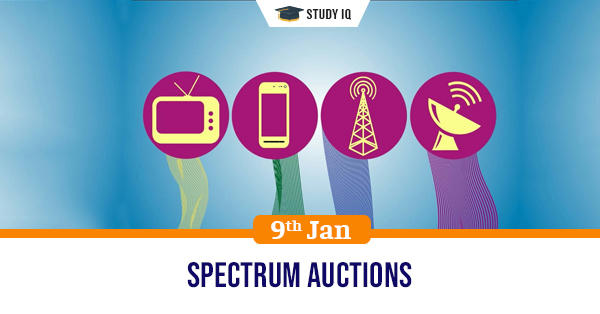 Spectrum auctions
Date: 09 January 2021
Tags: Infrastructure
Issue
The Department of Telecommunications has said that auctions for 4G spectrum in the 700, 800, 900, 1,800, 2,100, 2,300, and 2,500 MHz bands will begin from March 1.
Background
With the expansion in the number of cellphone, wireline telephone, and internet users, the need to provide more space for the signals arise from time to time.
Details
Devices such as cellphones and wireline telephones require signals to connect from one end to another. These signals are carried on airwaves, which must be sent at designated frequencies to avoid any kind of interference.

To sell these assets to companies willing to set up the required infrastructure to transport these waves from one end to another, the central government through the DoT auctions these airwaves from time to time.

These airwaves are called spectrum, which is subdivided into bands which have varying frequencies.

All these airwaves are sold for a certain period of time, after which their validity lapses, which is generally set at 20 years.

In the spectrum auctions scheduled to begin on March 1, the government plans to sell spectrum for 4G in the 700, 800, 900, 1,800, 2,100, 2,300, and 2,500 MHz frequency bands. The reserve price of all these bands together has been fixed at Rs 3.92 lakh crore.

Depending on the demand from various companies, the price of the airwaves may go higher, but cannot go below the reserve price.

The successful bidders will have to pay 3 percent of Adjusted Gross Revenue (AGR) as spectrum usage charges, excluding wireline services.
Eligibility
All three private telecom players, Reliance Jio Infocomm, Bharti Airtel, and Vi are eligible contenders to buy additional spectrum to support the number of users on their network.

Apart from these three, new companies, including foreign companies, are also eligible to bid for the airwaves.

Foreign companies, however, will have to either set up a branch in India and register as an Indian company, or tie up with an Indian company to be able to retain the airwaves after winning them.