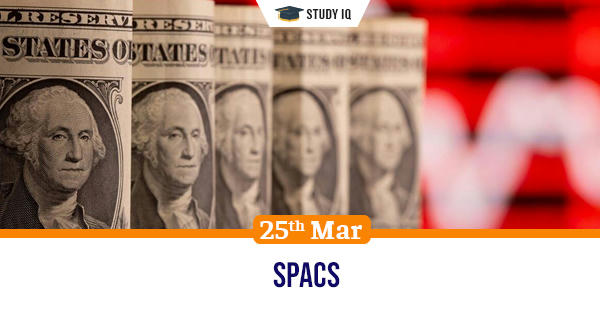 SPACs
Date: 25 March 2021
Tags: Miscellaneous
Issue
US Securities and Exchange Commission (SEC) has alerted investors regarding SPACs, or special purpose acquisition companies.
Background
The SPACs are used by promoters and investors to take their companies and investments public. This gained momentum last year.
Details
An SPAC, also known as blank-cheque company, is specific entity set up in order to acquire a firm in a particular sector.

SPACs are aimed at raising money from initial public offering (IPO) at a time when it does not have operations or revenues.

The raised money from the public is kept in an escrow account, which can be used while making the acquisition.

SPAC is delisted and money is returned back to investors if the acquisition is not made within two years of the IPO.

SPACs have become attractive even though they are basically shell companies because of the people sponsoring the blank-cheque company.
SPACs in India
Indian regulatory group has not taken an official stand on allowing the listing of SPACs. However, SEBI has formed an expert committee to study the feasibility of bringing SPACs under regulation.

Indian regulatory framework does not allow formation of blank cheque companies. Companies Act 2013 allows the Registrar of Companies to remove the company from the list if it does not start operations within a year.
Risks involved
SPACs are expected to return back the money to investors if no merger is made within two years but certain terms and conditions can prevent investors from getting their money back.