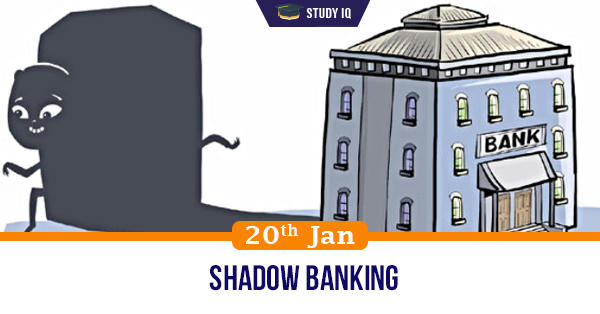 Shadow banking
Date: 20 January 2021
Tags: Miscellaneous
Issue
RBI is likely to propose tightening rules on "shadow banks" in a bid to strengthen solvency and sustainability.
Details
India's banks must maintain at least 18% worth of deposits that they must hold in cash, gold or government securities.

The RBI could also suggest large nonbanks be required to maintain a cash reserve ratio. For banks this ratio is 3%, reduced from 4%

The move could be a huge cash drain for the sector which is currently free from maintaining these reserve ratios, allowing them to lend to subprime lenders as well.

The move is to avoid failures of big shadow banks that could pose systemic risks and is expected to encourage some of the larger ones to move towards becoming full-time banks.
Shadow banking
The shadow banking system is a term for the collection of non-bank financial intermediaries that provide services similar to traditional commercial banks but outside normal banking regulations.

They rely on short-term funding provided either by asset-backed commercial paper or repo market.

The shadow banking system has escaped regulation primarily because unlike traditional banks and credit unions, these institutions do not accept traditional deposits.

Examples of intermediaries not subject to regulation include hedge funds, unlisted derivatives, and other unlisted instruments.
Difference with conventional banks
They do not have access to central bank funding

They do not have safety nets like deposit insurance

They do not take deposits from customers foe lending
Concerns with Shadow banking
They are used to launder money and bypass banking system.

Stress on shadow banking will impact traditional banking system.

Excess dependency on collateral business will create NPAs.