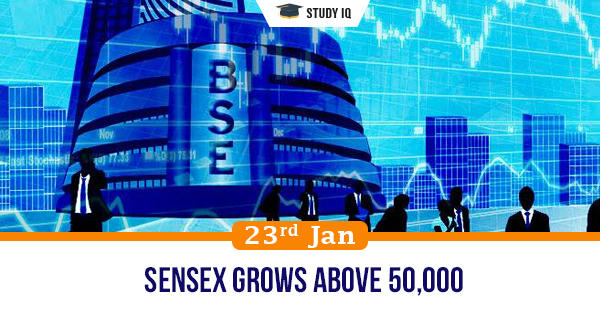 Sensex grows above 50,000
Date: 23 January 2021
Tags: Miscellaneous
Issue
The BSE Sensex has crossed the 50000 mark for the first time in its 42 year history. It has recorded a compound 15.9% growth.
Details
Only five companies that were initially part of the index retain their place — Reliance Industries, HUL, ITC, L&T, and M&M.

Thirty-five years ago, there were no IT companies and banking stocks in the benchmark index but now it has 9 stocks from banking and finance, and 4 information technology companies.

Since April 1, 2020, inflows have hit a record Rs 2.41 lakh crore. The system is flush with liquidity, which is one reason for the non-stop rally.

The latest spike that has pushed the Sensex past 50,000 is primarily on account of the smooth transition of power in the United States after the deadly January 6 siege of the Capitol.
Reason for growth
Analysts expect the combination of strong capital inflows, low interest rates, leaner corporate balance sheets, and steps taken by the government, to quicken the pace of economic recovery in India.

GDP is expected to rise by 0.1% in the December quarter. In the first half of 2021-22, the economy will grow at 14.2%, according to a Reserve Bank of India study.

Apart from robust FPI inflows, a big reason for the rally has been the impressive corporate results in the second and third quarters.

With the uptick in demand for steel, cement, and real estate, as well as in consumption, analysts expect to see a restarting of investment by the corporate sector.
Concerns
Analysts say that the rise in inflation, tightening of monetary policy, and increase in interest rates will also be critical for the markets.

If the US decides to increase rates, money will start flowing back from emerging market equities to US treasuries, and that may result in a correction.