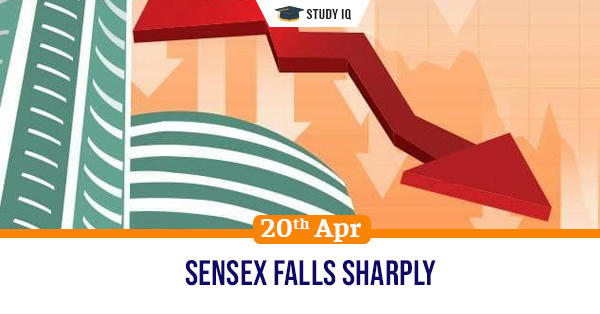 Sensex falls sharply
Date: 20 April 2021
Tags: Miscellaneous
Issue
The Sensex at the Bombay Stock Exchange fell by over 1000 points as a result of spike in Covid-19 infections across the country.
Background
Covid-19 cases have been spiralling since couple of weeks. This has raised further threats of a complete lockdown of the economy.
Details
The Indian rupee fell by 47 paise against the US dollars in the early morning trade to stay at 74.82 at the end of the day.

This is not the first time that Monday has observed a fall in Sensex. This is the third Monday when Sensex has fallen by over 1000 points.

The indices have come under pressure owing to fear of a lockdown in states such as Maharashtra that is observing continuous rise.

The market is vary of the effects of lockdown on the recovery of the economy and GDP growth that had already suffered last year.

The IHS Markit India Manufacturing Purchasing Managers' Index (PMI) has slipped to a seven month low indicating slowdown of industrial output.

The manufacturing sector is also set to experience slowdown as a result of fresh surge in Covid-19 pandemic cases with situation becoming more challenging in future.
Government response
To dispel fears of a nation-wide lockdown, the finance minister held a meeting with industry representatives.

Even though this measure has instilled some confidence in market, the state wise indications are not that promising.

The increasing pace of vaccination process and experience in preventive measure has created a better perspective.