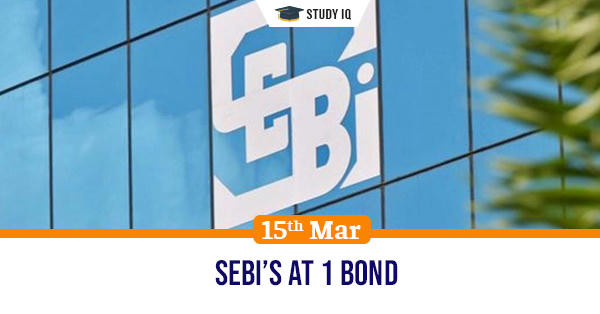 SEBI's At 1 bond
Date: 15 March 2021
Tags: Miscellaneous
Issue
Securities and Exchange Board of India (SEBI) has put certain restrictions on mutual fund (MF) investments in additional tier-1 (AT1) bonds.
Background
The Ministry of Finance has asked SEBI to withdraw the order as it can create disruption in the investment of mutual funds.
Details
AT1 Bonds is short form of additional tier-1 bonds. These are unsecured bonds which have no maturity date.

These bonds have a call option that allows the banks to buy these bonds back from investors at any time.

At1 bonds are used by banks to strengthen their core or tier 1 capital. They are inferior among all other forms of debt except common equity.
Action by SEBI
SEBI has told mutual funds to consider AT1 bonds as 100 year bonds. This means that these bonds will be redeemed after 100 years.

SEBI has also asked Mutual Funds to issue AT 1 bonds only at a maximum 10 percent of assets of a scheme.
Reason
SEBI made the decision after the Reserve Bank of India (RBI) allowed a write-off of Rs 8,400 crore on AT1 bonds issued by Yes Bank Ltd.
Impact on Mutual Funds
Treating AT1 bonds as 100 year bond raises the risk in these bonds as they become ultra long-term.

This can create volatility in prices of the bonds as higher risk status will cause yield of the bonds to increase.

As the prices of bonds increase, the net asset value of MF schemes holding these bonds will decrease significantly.
Impact on banks
If there are restrictions on investments by mutual funds in AT1 bonds, banks will find it tough to raise capital.

Banks will suffer if they find it tough to raise capital at a time when they need new funds due to soaring bad assets
Reason for Finance ministry direction
The ministry has sought withdrawal of new directions as it might lead to mutual funds making losses and exiting from these bonds.

The government is in need of new capital that has to be raised from such bonds as the process of privatising PSU banks is taking place.