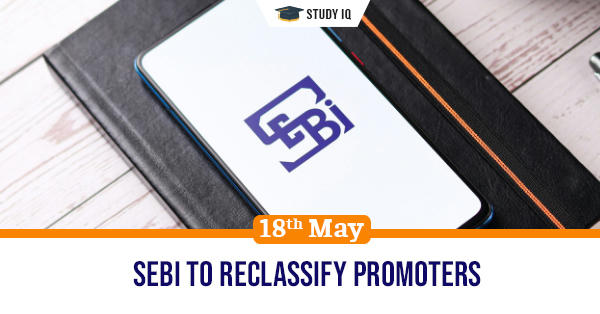 SEBI to reclassify promoters
Date: 18 May 2021
Tags: Miscellaneous
Issue
The Securities and Exchange Board of India is planning to scrap the 'promoter' and 'promoter group' concept and introduce 'person in control' system.
Background
The SEBI has observed that the promoters were losing their relevance in India Inc and decided to over-haul the system with a new regime soon.
Details
Promoter
An individual whose name is present in offer document or in the annual return of issuer is called a promoter.

Additional conditions say that promoter needs to have control over the issuer and powers to give instructions to the board of directors.

The definition of promoter is very important as the term is used regularly by SEBI to define regulations and regulatory authorities.
Need for a new system
The change was necessitated after the power is no longer concentrated in the hands of promoters of promoter group due to emergence of new shareholders and investors.

The growth of Board of directors and independent directors has allowed powers to be distributed. New structure will allow transparent functioning of the listed company.

There are plans of shifting responsibility more towards board of directors and management to prevent promoters from manipulating power to increase their profits.
Promoter group concept scrapping
The 'promoter group' definition specifies a group of individuals who capture holdings of a company. They use common financial investors to capture unrelated companies.

Multiple capturing by common promoter group should be disclosed to the investors in line with transparent practices.