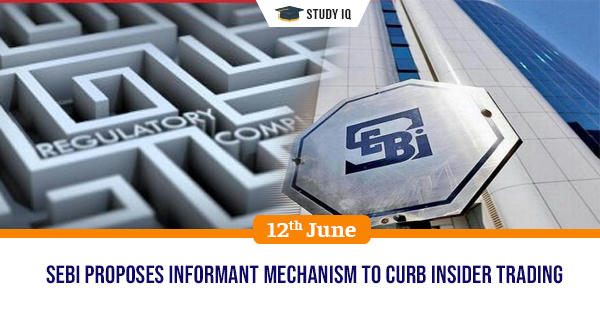 SEBI proposes informant mechanism to curb insider trading
Date: 12 June 2019
Tags: Basics of Economics
Market Regulator Securities and Exchange Board of India (SEBI) has invited public comments on its recently released Discussion Paper on amendment to SEBI (Prohibition of Insider Trading) Regulations, 2015 to provision for informant mechanism for insider trading. It proposes mechanism to formalize process of receiving information from whistle-blowers who expose insider trading violations. It also suggests measures to protect and award such informants.
Background
The insider trading has been defined in SEBI (Prohibition of Insider Trading) Regulations, 2015. It defines it as means for trading of securities while in possession of unpublished price sensitive information ('UPSI'). Insiders usually indulge in insider trading through proxy to whom relevant information is communicated. Direct evidence of such communication is seldom available, thus detection and prosecution of insider trading remains challenge. In this background, SEBI has proposed amendments to The SEBI (PIT) Regulations, 2015 which would include the following features.
Proposed amendments
The new framework rewards and protects individuals who bring forward instances of violations of insider trading norms.

If such information leads to final order by SEBI with minimum disgorgement of Rs.

5 crore, then monetary award of 10

%

of money coll

ected by SEBI, subject to cap of

Rs.1 crore, can be given to informant. The reward will be paid from Investor Protection and Education Fund (IPEF).

It mandates informant to fill Voluntary Information Disclosure Form (VIDF) with credible, complete and original information related to insider trading, including those pertaining to unpublished price-sensitive information.

It proposes establishment of Office of Informant Protection (OIP). It will be independent of the investigation and inspection wings of SEBI.

It will make policy related to receipt and registration of VIDF, deciding on issue of grant of reward to informant upon completion of enforcement action and other related issues.

It mandates informant to disclose his or her identity at time of submission of complaint in the official format. It also allows filing of anonymous complaint through authorised representative who is practising advocate.

It mandates all listed companies and intermediaries to include provisions in their code of conduct to ensure that such individuals are not discharged, terminated, demoted, suspended, threatened or discriminated against, directly or indirectly. This is to protect complainants against victimization.

However, incase complaint is found to be frivolous, it allows SEBI can initiate actions against the informant.