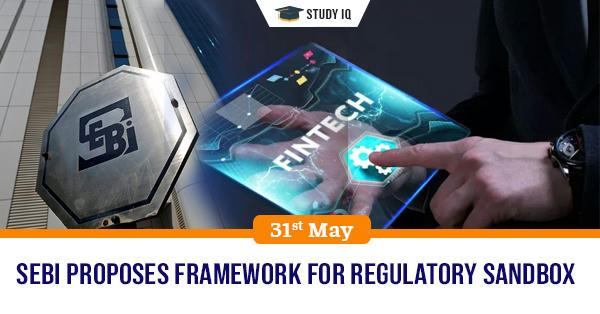 SEBI proposes framework for regulatory sandbox
Date: 31 May 2019
Tags: Basics of Economics
Market regulator Securities and Exchange Board of India (SEBI) has proposed framework for Regulatory Sandbox for financial institutions for fintech testing in its recently released discussion paper.
SEBI's Framework for Regulatory sandbox
Definition of Regulatory sandbox:

It is defined as live, testing environment where new products, processes, services and business models can be deployed on limited set of eligible customers for specified period of time, with certain relaxations in the regulations and guidelines.

Objective of sandbox:

It is intended to serve as testing ground for new business models and technologies that benefits investors, Indian markets and Indian economy at large.

Eligibility:

To begin with, all market participants registered with SEBI will be eligible to test within sandbox. At a later stage, it will be expanded to fintech start-ups and other fintech firms as well.

Risks:

The applicant should provide adequate disclosure of potential risks to users participating in sandbox and seek prior confirmation from such users that they fully understand and accept the attendant risks.

Reports:

Participant must submit interim reports on the progress of the test to SEBI after receiving approval for conducting tests.

Duration of the sandbox testing:

It is proposed to be maximum of nine months with maximum extension (upon request) of three months.

After completion of testing, SEBI shall decide whether to permit the product, process, service, or solution to be introduced in the market on a wider scale.