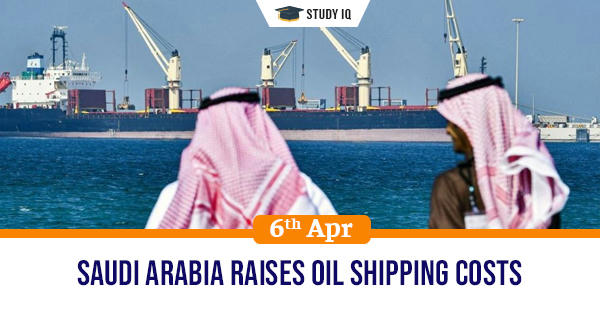 Saudi Arabia raises oil shipping costs
Date: 06 April 2021
Tags: Miscellaneous
Issue
National oil marketing company of Saudi Arabia has raised the cost of transporting crude oil to Asian countries by about 20-30 cents per barrel.
Background
Transportation cost occupies an important position in oil business. The cost of transportation has also an effect on prices of petroleum.
Details
The company has raised prices for only Asian shipments and shipping prices for north-western European customers has not been raised.

The decision comes after OPEC+ countries have decided to increase the crude oil output in coming days. It will offset any losses due to decrease in crude oil prices.
Reasons
The rise in prices may be indicated towards India, which has been trying to move away from Saudi suppliers and focusing on new ones such as Guyana and USA.

It is also signalling the intention of the producers to put pressure on customers who are trying to diversify their supplies.
Reason for cutting imports from Saudi
OPEC+ countries had cut their crude output so that the prices may increase. This put strain on major oil importers such as India whose economic growth is suffering due to high prices.

India had thus decided to buy oil from new producers such as Guyana who is not part of OPEC+ and can give discount to India.
Importance of Saudi Arabia
Saudi has been the second biggest supplier of crude oil to India. Decrease in imports from Saudi will have to be balanced by imports from other gulf countries and the United States.

However, Saudi will still remain a major supplier of crude oil to India because of its geographical proximity and large requirements of India.