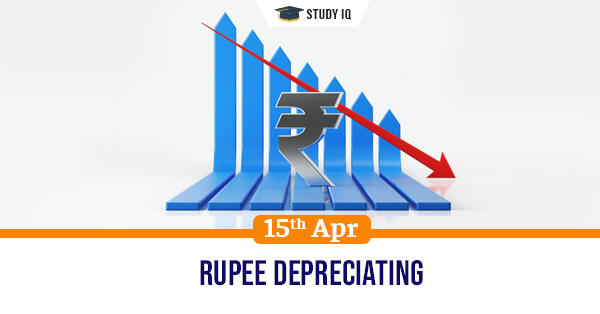 Rupee depreciating
Date: 15 April 2021
Tags: World Economy
Issue
The Indian rupee has lost about 4.2% of its value over the last few weeks and hit a nine-month low of 75.4 against the US dollars.
Background
The rupee has been under tremendous pressure due to rising cases of Covid-19 as well as threat of a lockdown.
Details
The further decline was fuelled by RBI's decision to keep policy rates same and injecting liquidity through the Government Securities Acquisition Programme (G-SAP) programme.

The Rupee has been the weakest emerging market currencies against the US dollar. It is only behind the Turkish New Lira that has fallen 4.36%.

Brazilian Real has lost about 3.99% and Russian Rubble has lost about 3.25 per cent. Thai Baht and Indonesian Rupiah have also lost significant value.
Reasons for the decline
Rising Covid numbers has been the biggest concern. Many states are considering more stringent lockdown measures.

The dollar has also strengthened as expectations have risen due to better growth in US economy in future.

The RBI G-SAP programme to infuse liquidity in the market is believed to be quantitative easing measure for increasing government's borrowing programme.

Foreign Portfolio Investors have pulled out large amount of money from Indian market due to delay in economic recovery. This has further degraded rupee.
Future prospects
The Rupee is expected to hit 77-78 over the future course of time. This has raised concerns among importers as cost of their product increases.

The government and RBI are trying to boost exports and promote local industries. This will prompt them to avoid interfering in preventing decline.
Effects of Rupee value on imports and exports
The exchange value of Rupee has great implications on exports and imports. Imports will become costly as Rupee value depreciates and cheaper as a result of appreciation.

Similarly, if Rupee value depreciates than exports will become cheaper. It will become costly if value of Rupee appreciates.
Quantitative easing
Quantitative easing (QE) is a type of unconventional monetary policy in which a central bank buys longer-term securities from the open market so as to increase the money supply and encourage lending and investment.