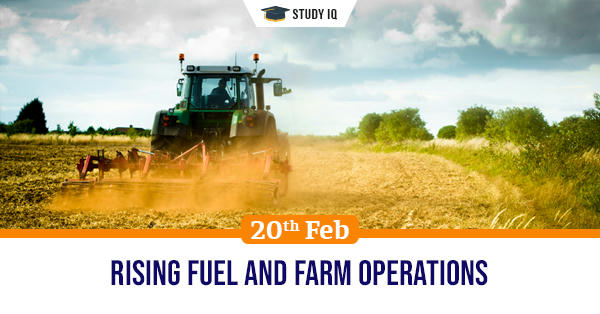 Rising fuel and farm operations
Date: 20 February 2021
Tags: Basics of Economics
Issue
Escalating fuel prices are set to put a strain on the pocket of already stressed farming community.
Details
In Punjab, there are around 11 lakh farm households which own 5.20 lakh tractors, nearly 17,000 combine harvesters including nearly 6,000 with an attachment of Straw Management System (SMS).

Apart from this the state owns 75,000 stubble management machines, over one lakh other farm implements.

All these machines are diesel operated and mostly tractors mounted and are used to cultivate nearly 42 lakh hectares area in Punjab. Apart from this there are 1.50 lakh diesel operated tubewells too in the state.

In Punjab the consumption of diesel is 2.5 times higher than the petrol approximately out of which nearly 40 percent consumption of diesel is in the agri sector.

Tractor mounted machines to prepare the fields for sowing to harvesting and post harvesting and every operation will see an increase of 28.3 percent in diesel consumption.

The total cost of field preparation for one crop after normal combine-harvesting would be Rs 3,000 per acre, then it will go up to Rs 3,800 to 3,900 if the higher diesel costs are factored in.