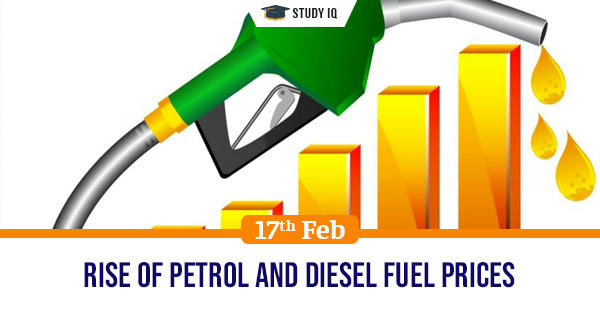 Rise of petrol and diesel fuel prices
Date: 17 February 2021
Tags: Basics of Economics
Issue
Fuel prices continue to skyrocket successively for petrol and diesel. The incessant fuel hike has created problems for the consumers and is affecting their lives in many ways.
Background
Indian consumers have been facing the wrath of rising fuel prices that has led to severe criticism of the government.
Details
Fuel prices vary from state to state and taxes are levied on them by both central as well as the state governments.

International oil prices have been on the rise since Saudi Arabia pledged additional voluntary output cuts of 1 million barrels per day under a deal between the OPEC and its allies, OPEC+.

Both state and central governments have hiked central excise duty and sales tax to boost revenues after the lockdown period.

In Delhi for instance, state and central taxes amount to 180 percent and 141 percent of the base value of diesel.
Effects of higher fuel prices
Higher fuel prices could dent overall budget by not only increasing your spending on fuel but also essential commodities.

The fuel price hike can lead to cost escalation at both wholesale and retail markets, which will affect the consumers.

In rural areas, weak monsoons may impact cost of farming as farmers may have to spend on diesel powered motors for irrigation.