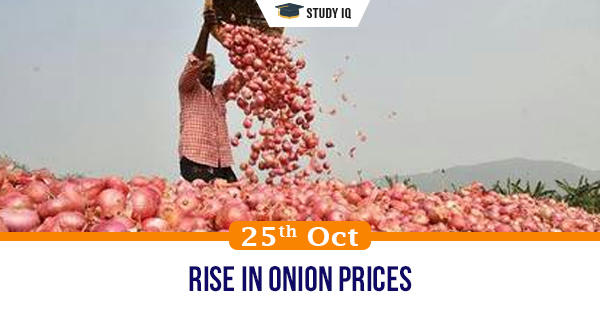 Rise in onion prices
Date: 25 October 2020
Tags: Agriculture
Issue
With less than a week to go for the Bihar elections, the Centre has reintroduced the stock limit on onions to control rising prices.
Background
Barely a month ago, Parliament had amended the Essential Commodities Act, 1955 to exclude onions from the list of essential commodities, thus freeing them from stock limits.
Details
Prices of onion has been rising since the last week of August, as reports started coming in of massive losses to kharif onions caused by heavy rainfall in north Karnataka.

This crop was meant to arrive after September and was expected to feed the markets until the arrival of the kharif crop from Maharashtra towards the end of October.

There are three main onion crops — kharif (June-July sowing, post-October harvest), late kharif (September sowing, post-December harvest), and Rabi (December-January sowing, post-March harvest).

Farmers, especially in Maharashtra, store it in on-field structures called kanda chawls to protect it from moisture and light. This crop feeds the markets till the next one arrives.

The heavy rain in September not only destroyed the new crop in Karnataka but also took a toll on stored onions in states like Madhya Pradesh and Gujarat.

The government has made relaxation of import norms, to allow easy shipping in from Iran, Turkey, and other onion-producing nations.

Farmers and agricultural officers have talked about a dire shortage of onion seeds, which can cast a shadow on the all-important rabi season.

Normally, farmers generate their own seeds by allowing a portion of the crop to flower and then produce seeds. However, this season, they skipped this step and sold their entire crop in view of the good prices being offered.

Non-availability of good seeds has caused concerns and the available seeds are being sold at a premium.