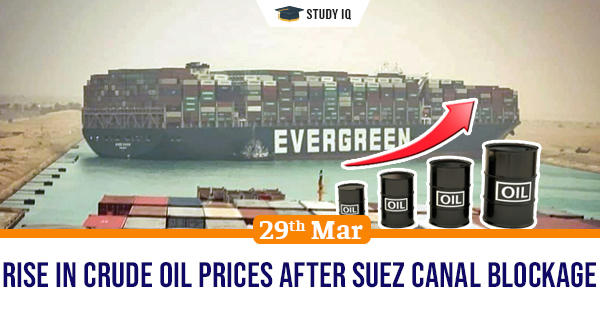 Rise in crude oil prices after Suez canal blockage
Date: 29 March 2021
Tags: Miscellaneous
Issue
As the blockage in Suez canal continues to stop the global trade, the result could have a larger effect on the trade of crude oil.
Background
The Suez Canal was blocked by a large container ship known as Ever Given. The ship was pushed off the course by strong winds.
Details
The resultant impact of canal blockage on crude and tanker rates could effectively show up in the form of higher crude prices.

India is the largest importer of crude oil and similar products via the Suez Canal. These numbers are larger than that of China or South Korea. More than two-thirds of India's crude oil requirements come from Gulf region.

If the blockage is not cleared by spring tide, it will have large implications on the refining operations on a broader scale.

The biggest effect on India would be on the import and export of ethane with the US. It would also impact imports of crude from Latin America.

India imports about 500,000 barrels of crude products per day via the Suez Canal, followed by China, South Korea and Singapore that import about 400,000 barrels of crude oil.

India is sixth in the list of countries that exports crude products via the Suez Canal. Countries such as Russia, Saudi Arabia, Iraq, Libya and Algeria are above India.

The biggest effect on oil trade and crude prices will be if the freeing of the container ship 'Ever Given' takes weeks which is currently predicted.
Suez Canal
Suez is an artificially made water way that connects the Red sea and Mediterranean Sea. It basically connects Europe and Asia without having to traverse the Cape of Africa.

Suez Canal is not only important for movement of goods but also they control defence and security of the region.